Making a Quick Snack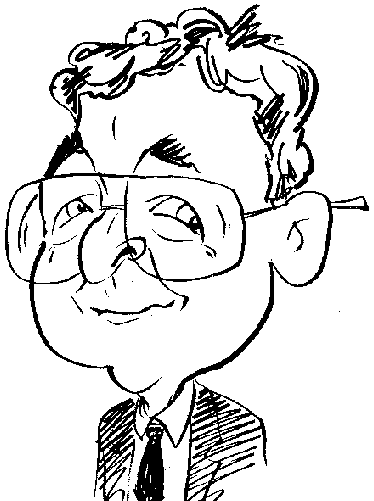 Review controls
While electric toasters have been around for many years, Tefal has decided to give this type of device a make-over with a new feature.
Buy Now!
Tefal Toast 'n' Egg
£34.99 from Amazon

£39.95 from John Lewis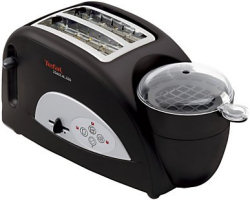 Whether it is breakfast, mid-morning or a late-evening snack, the thought of poached egg on toast can cause the gastric juices to begin flowing - at least that is probably the reasoning behind a new product from Tefal. The product, as you might have guessed if you had read my earlier report, is the Tefal Toast n' Egg. Tefal has taken a two slice toaster and attached a basic food preparer to one end. While some attempt has been made to design an appealing unit, overall appearance is more function than aesthetic.
My Tefal Toast n' Egg unit is predominately black in colour. A side panel, with various controls, bread slots and water-heating bowl add a touch of colour with their silver coating. The unit's basic measurements are 425 x 210 x 110 mm which is not much larger than the rather old toaster that has been used in my household for a good number of years. While on the subject of dimensions, the power lead attached to the device might cause a problem in some kitchen/breakfast rooms that have limited power outlets. The Toast n' Egg has a lead measuring 97cm which does restrict where it can be placed. When not in use this lead can be hidden away in the base of the unit.
As you would expect from its title, you can use this product for toasting bread and preparing eggs. With the latter food item you have a choice of poaching or boiling your egg. You can also use this device to keep pre-cooked food, such as mushrooms and tomatoes, warm for a more substantial snack. This multifunctional aspect is achieved through the combination of a permanently attached water-heating bowl; removable four-egg holder; egg pan (for poaching), steam accessory and transparent cover; plus the main toaster unit. You get a measuring beaker for adding the recommended amount of water to the bowl. This beaker features a rather sharp piercing spike, for puncturing eggs before boiling, that does require some care when handling to avoid accidental damage to your fingers.
Decorating the side panel, mentioned earlier, is a slider control for adjusting the toasting browning level plus four control buttons in a diamond arrangement. These buttons allow you to activate the toaster, egg function, both toast and egg, plus cancel any current activity. While I had no problems using the egg function, clear instructions are provided in the documentation, I did find that the bread slots were not deep enough for the wholemeal bread that I normally use.
Approximately a quarter of each slide would protrude from the top of the slot and was therefore not affected by the toasting process. I did think about replacing the bread upside down and restarting the toasting process. However when I tried this, it resulted in a burned section running across the toast. The choice was a burned strip, a slice with a section that was not toasted with my chosen bread or change to a more compact size of bread.
The Tefal Toast n' Egg is probably more suited for a busy, single person rather than a family. Toasting is OK if you stick to sliced bread while the egg element is a useful, if slightly gimmicky, addition. This product is available at £34.99 including shipping from Amazon. The second link provides information from Tefal.
http://www.amazon.co.uk/gp/product/B0013KEDKY
http://www.tefal.co.uk/tefal/products/product/index.asp?category%5Fid=400&dept%5Fid=410&sku=U00455