Asus Notebook X555MA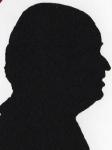 The Asus Notebook X555MA is a 15.6inch screen notebook from Asus that runs Windows 8.1, it has an Intel i5 processor, 4GB of RAM and a 1TB hard disc. The price is quite reasonable so what is not to like about this offering as it even has a DVD drive?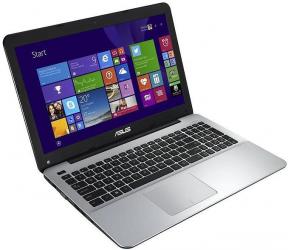 click image to enlarge
This notebook measures 37x25.5x2cm the last figure is at the back and it slims to only 1cm at the front, it weights 2120grams.
The right side has the optical drive, a USB port, 3.5mm headphone socket and an SD card socket. The front is clear as is the back the former as it is so thin the latter as the screen goes back to 135 degrees. The left side has a Kensington Lock port, two USB3 ports, HDMI and VGA sockets, Ethernet port and DC input.
The viewable screen is 34x19.5cm which gives the notional diagonal imperial screen measurement of 15.6inches. The viewable screen resolution is 1366x768. However using the HDMI port and an external panel I easily powered a screen at 2560x1440, review of this panel in a few weeks.
It has a 103 key keyboard with the alpha and numeric keys being full size. There is a 4cm strip behind the keyboard which has the rather good speakers and the on/off button. There is just under 2cm clear on each side and a 10.5cm strip in front of the keyboard that contains the 10.5x7.5cm trackpad mounted 10.5cm from the left side and 17cm from the right side.
The Intel i5 processor runs at 2.4GHz, there is 4GB or RAM (3.89GB available) a 1TB hard drive split over 'C' and 'D' and the DVD rewriter on 'E'.
In heavy use this means file transfer and Internet usage the whole time I got 270 minutes. A recharge while off was 150 minutes, it took close to three hours while in use.
Startup was 16 seconds and shutdown 5 seconds. It of course has Wi-Fi and like most recent offerings it also has Bluetooth.
Software provided includes Windows 8.1, a comprehensive McAfee suite, Music Maker Jam (but while this is provided some add ons are chargeable) and 16GB of Cloud Storage which can be accessed from anywhere even from other PCs of SmartPhones. There are also a number of game trials from Wild Tangent.
There is a sticker saying 'Ice Cool' on the area in front of the keyboard and indeed even a full day of usage this area did stay cool. I found the sound from the internal speakers more than adequate in a normal room.
The processor was responsive and I was easily able to switch between three open programs while at the same time playing an audio CD from the DVD drive.
Windows 8.1 has its detractors but it is a lot easier to use – the way you work – than version 8 was.
This to me seems an excellent purchase with the only slight drawback the 1366x768 screen resolution but connect to a suitable external panel and you can via HDMI and have a resolution of 2560x1440. The Asus X555MA is available from Argos for £399. See it for yourself in their shops or order online from the link below.
http://www.argos.co.uk/static/Product/partNumber/3394689.htm