Xara Speeds Web Design

The majority of us are not natural designers who know HTML and can produce an attractive and effective Web design at the drop of a hat. We need all the help that we can get. Xara Web Designer MX -- which is available in two versions -- is a WYSIWYG template based program that brings the design and publishing of effective web sites within range of most people.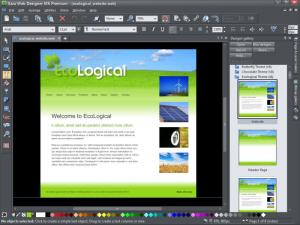 click image to enlarge
Web Designer MX offers a wide range of templates, each of which comes with linked pages, from which to choose. Once one has selected a particular template as a starting point from which to develop one's ideas there is a full range of tools to manipulate text, graphics and photos without having to struggle with, or even concern oneself with, the underlying HTML. This program is both intuitive and no more difficult to use than any other versatile graphics package so that one hardly ever needs to refer to the extensive help files.
All the tasks involved in handling and navigating around multiple pages seemed to be handled simply and smoothly and, equally importantly, the help files seem to be very useful. Adding and arranging a navigation bar was straightforward as was dealing with links. This is assisted by the fact that, as well as being able to import graphics or images there are template designs for a range of individual graphics such as buttons, navigation bars, text boxes and even speech bubbles. If required, built-in drawing tools can be used to produce individual results.
At any stage one could have a preview in a web browser so one can check for problems and visualise the result at each stage of development. Then, when the time came to publish online one among the choices offered were Facebook and Flickr as well as uploading to the web however, one can have a preview in a web browser at any time.
Then, having obtained the necessary FTP details from one's Web hosting company, the completed site can be uploaded. This final stage sounds straightforward and is, essentially straightforward. However, it may need patience and a little extra time spent referring to the help files and checking with the hosting company before one gets it right.
Having developed and published a working, but relatively basic, site it is worth spending time on the help files to learn about adding extra features to one's site.
Xara Web Designer MX, which is available for download from xara.com priced at £39.99 incl. VAT, will cover the majority of needs. In addition, there is Web Designer MX Premium from the same site. Priced at £89.99 it has a range of extra features aimed at professional and commercial web designers including Flash animation, extra Widgets for e-commerce and animated product showcases, support for online presentations and Webinars, and additional graphic design tools.