Salter Ultimate Accuracy Kitchen Scales

These Salter digital kitchen scales have a rated capacity of 10kg and can weigh small amounts to an accuracy of 0.1g and so will prove a boon to any serious home cook as well as giving confidence to those on a learning curve.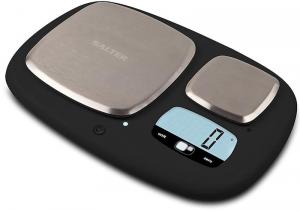 click image to enlarge
The base of the unit is polished black in colour and is roughly 30 x 20cm in size with a smoothly curved profile. It is topped by the two different sized weighing platforms as well as a large and very clear backlit LCD display. The four digits which display the weight are about 28mm high while the "unit" indicators are much smaller.
Although there is auto power-off to conserve the life of the three AAA batteries, there is also a power On/Off push button and the touch controls to select which platform is "active", the choice of Imperial or metric units as well as the Zero control. This latter enables the user to reset to zero when an empty bowl is placed on the scale pan and then, subsequently, between each different ingredient being added. In addition, LEDs show which platform is active.
As bowls or scale pans are not supplied the user can use whatever bowls or plates they have that are of a suitable size. The two stainless steel platforms are roughly square in shape and approximately 15.5 and 8.5cm in size respectively – the large one with a 10kg capacity in 1g increments and the smaller one 200g in 0.1g steps – so that the cook is able to measure ingredients far more accurately and repeatedly than the teaspoon and tablespoon measures frequently used. (In fact, one can go well beyond 200g before overload is indicated in the display.)
As well as weighing in grams, one can change to Imperial lbs & oz. where the smallest increments when using the larger platform are fractional, those on the smaller platform are decimal -- 1/8th oz. and 0.01oz respectively. This was slightly confusing at first but one soon took it for granted and found it convenient as many recipes quote fractions of an ounce.
There is also the option to switch to liquid measure (fl. oz. or ml). As can be appreciated, the liquid measure is only calibrated for water as other liquids have different densities. Nevertheless it is a useful function.
In practice, I found that these are ideal kitchen scales. As well as being able to handle the larger weights beyond the capacity of many scales, they can weigh quantities – both large and small --accurately. For example, when making bread the flour and water are of the order of 500g while the weight of the yeast is less than 10g. Furthermore, the ability to switch instantly between Imperial and metric units avoids the need for having to make quick calculations – and possibly getting it wrong.
Having a list price of £39.99 but available from Amazon for £28.96 these scales make it simple to weigh all the ingredients quickly and easily. The only caveat that I have is that, although the scales are rated as being able to handle a maximum weight of 10kg, I think that this is rather optimistic as I could not find a bowl large enough to hold more than about 5kg and yet still able to remain stable on the platform.