HP ENVY 4520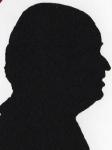 An All In One unit which means it prints, scans and copies. The HP Envy 4520 can do the last two actions without the PC needing to be turned on. In fact with printing being possible from phones and other non PC devices you might even buy one without owning a PC.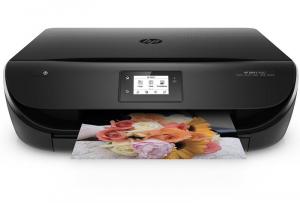 click image to enlarge
The printer measures 43x35x12cm when closed. You will need more space above the 12cm height to place things on the flatbed and more on the 35cm depth to allow for paper to emerge in front of the inbuilt paper tray the flip out support opens automatically when printing starts by 13cm in front to hold onto the output.
This is a four ink two cartridge offering which can produce rather nice looking images but do remember the cost of ink as the cartridges are only small.
Like most modern All In Ones it can be connected by USB or Wi-Fi. Also like most All In Ones it can print from a range of non PC sources the most used is probably your SmartPhone via a range of Apps.
I installed it on Windows 7 but it also supports Windows 8/8.1 and Windows 10 and it claims to support MAC as well.
The stated monthly print cycle is up to 1000 pages but the recommended is between 100-400 pages.
There is a single paper input tray at the base which is stated to hold 100 sheets. Paper is inserted face down and delivered face up on the flip out arm just above the input tray. While this holds the paper quite securely I feel the claim of 'up to 25 sheets' is optimistic.
The stated print speeds have to be verified these days so the speed that matters for this home unit is time to first page out and that is 18 seconds which I managed to beat quite regularly at 15-16seconds.
Printing a 15x10cm photo in best mode took 50 seconds or 62 seconds including the processing time.
As it has a single paper tray it asks each time you refill what you have inserted, excellent if you change paper type and size but a little annoying if it's always the same.
As a copier it can reduce (25%) and enlarge (400%) both from the touch screen on the sloping front face of the unit as copying does not need any external connection to work.
Scanning can be initiated from either the PC or the All In One. The scan speed is up to 8PPM monochrome and 4PPM colour. It can scan to email, PDF, BMP, PNG, TIFF and JPG.
There are a total of 12 buttons either side of the touch screen all are well marked. The on/off is quite interesting as it can go into a sleep mode or total shutdown the latter uses .13watts, the sleep mode is around four times that but can be woken from software which means as this Black unit is unlikely to pass the lounge police it can reside behind the sofa or even in a cupboard via Wi-Fi.
This is a good workhorse unit capable of a good copy or scan and even in normal mode excellent printed output. So at under £50 ideal for anyone even the occasional user.
The HP ENVY 4520 is available from the first link below for £45.20 with free delivery.
http://www.amazon.co.uk/gp/product/B014W49JTM?ie=UTF8&tag=gadge0a-21&linkCode=as2&camp=1634
http://store.hp.com/UKStore/Merch/Product.aspx?id=J6U70B&opt=ABU&sel=PRN&jumpid=reg_r1002_uken_b-002_title_r0001