Dell All In One Inspiron 2400 5000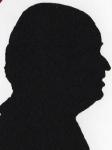 Normally when I hear 'All In One' it refers to a printer and scanner unit. This however is a PC everything is built into the touch screen with the only external bits the wireless keyboard and mouse so much less desk space is required.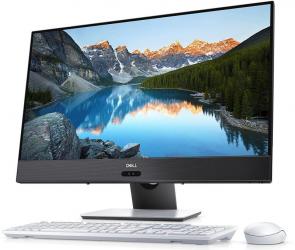 click image to enlarge
The overall size is 53.5x33.5x3cm, the stand is 23.5x23.5cm and raises the screen by 6cm. The only other parts are the keyboard and mouse both are wireless controlled by a single tiny USB controller.
Apart from one USB 3.1 port, a headphone socket and an SD Card port on the left side bottom edge of the screen everything else is on the rear of the unit.
On the right side of the connecting arm are an HDMI, two USB 3.1 and a USB 2 port as well as a small Kensington Lock Port. To the left of the connecting arm are an HDMI, USB 3.1, USB 'C' and a USB 2 port. Under the overhang of the screen in the centre are the DC input and an Ethernet port, the unit also has excellent Wi-Fi. The only thing I can think of that is not in the specifications is an optical drive but this can normally be overcome by downloads or a USB drive.
The edges of the screen are .5cm on the top and sides and 4.5cm at the base. The screen goes back to around 80 degrees and has around 10 degrees of forward movement.
In the previous two items I have looked at from Dell I wondered how they got so much sound from speakers in a panel well if the answer is in what is provided here it's the Waves Max Audio Pro software, not only good sound but plenty of it.
Most screens on a notebook have a camera centre top above the screen this Desktop unit has not one but two mounted centre bottom one normal and one infra-red.
The two button mouse with central scroll wheel is small but responsive as is the 107 key keyboard both in a creamy white colour and because they are Wi-Fi they are not tied to your desk.
The viewable screen is 52.5x29.5cm which gives the notional diagonal imperial measurement 23¾ inches. The display is 1920x1080 and there is excellent touch. I used it as a standard screen sitting just under an arm's length away but with the 80 degrees of back tilt you could stand above it.
It came with 16GB RAM, an AMD A12-9800E Radeon processor running at 3.1GHz. It has a 128GB SSD drive as 'C' and 1TB 'D' drive.
It is supplied with Windows 10 Home 64GB version and is version 1703.
It had a somewhat slow boot at 22 seconds but after a BIOS update during my test period this improved to 15 seconds, the screen blanks on shutdown in 3 seconds.
There are no screen adjustment controls just the on/off pimple bottom right under the screen edge this has a small white LED beside it.
While this is of course a mains unit it can be run in Tablet mode should you wish.
I have mentioned the slowish start up and the lack of an optical drive these for me are the only minus points everything else is a plus and for those with limited space or a clean desk principle an ideal purchase.
Speak to Dell and you can build it to your specifications so either an Intel or AMD processor and your choice of memory and hard disk. www.dell.com
I see the specifications reviewed is available from Amazon for £999.99 but the same unit with 8GB and without the 128GB SSD drive is only £699.99.