Evesham Mini PC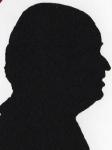 Review controls
This really is small, imagine the desk space taken by an average notebook and now divide that in four and that is the desk space taken by this PC.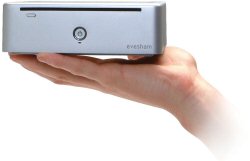 The unit is notionally 16x16x5cm. However it has a digital output and while a digital to VGA (analogue) converter is provided once you have plugged your VGA lead in that adds 8cm to the depth. However should you own a digital TV there is another way. The lead for this fits into a PS/2 type connector on the unit and this is around half the length of the Digital to VGA converter. The weight of the unit is around 1.2kilos.
The front of the Mini PC has the slot loading DVD drive and below that a large on button. Neither side, the base or the top has any inputs. So that leaves the rear, this has the digital outlet (digital to VGA connector included) the YPBPR (connector for digital TV) do not confuse this with a PS/2 port. 10/100 port, 2xUSB2 ports and a full size FireWire port. There is also a microphone socket and external speaker socket. Apart from a Kensington lock port that's it. I connected a USB hub and that gave me all the connectivity I required, the only person I think that would be unlucky is someone who is still on dial up. There is a 74 page user guide that should enable most if not all to get going.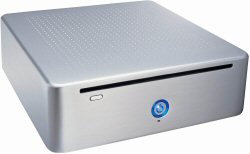 The things you will need that are not provided are a USB mouse and a USB keyboard, a monitor or panel unless you have a digital TV and some speakers. While a USB hub is not exactly a requirement there are two USB ports and most USB keyboard and mouse combinations need one each so a printer would certainly need a third port. The FireWire port might be useful for an external storage device.
Software provided include Microsoft XP Media Centre Edition, Microsoft Works, Bull Guard Anti Virus etc and some utilities.
The processor is a 1.4GHz Celeron and the unit is virtually silent when in use the exceptions are when booting up a slight breeze and occasionally some CD's tend to be noisy in the drive but I think that is down to the CD's imperfections as others are all but silent.
There is 512MB or RAM with a minimum of 8MB being used for the graphics driver. The hard disc is a notional 40GB (37.2GB actual) with around 8GB used and this includes an Image It copy for restoration, however a CD version is also provided as well as Microsoft Works 8.5, Roxio Easy Media Creator 7 Basic DVD and a Bonus Pack so a total of four CD's are provided. Other manufacturers might like to take note who only put images on the hard disc or if a CD is available they charge extra for it.
If space (or should I say lack of it) is a factor this Mini PC might well suit, you have got to have the extras I mentioned earlier and if you do not already own them then the price will be extra and needs to be considered. I suppose when a panel and the other items are taken into account this probably adds another £150 to the cost.
This is a totally useable PC and not a gimmick, I ran a number of software packages and installed several peripherals via a USB hub and all ran without problem. I see no reason why someone should not be able to run a small business from this PC.
The price from the link below is £499 including VAT. Should you need the other bits mentioned above I am sure Evesham will be delighted to supply them.
http://www.evesham.com/products/info.asp?e=2E71D509-08D0-4788-97B9-0A17B5547D88