Lenovo B320 All In One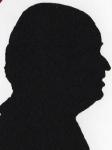 Review controls
I am not talking a printer, scanner, copier here, but a screen that has a computer and all the connections built into it, the screen is controlled either from the supplied Bluetooth keyboard and mouse or touch should you wish.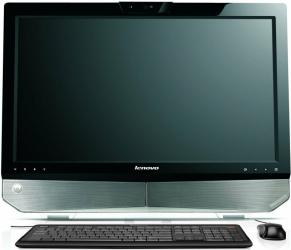 click image to enlarge
While Desktop PC's seem to have lost out to Notebooks or even smaller offerings the Touch panel is still emerging. This is all things to all. With the Bluetooth keyboard and mouse provided you can use it hands off but it is still perfectly useable hands on as the screen supports multi touch. For good measure its also a Media Centre.
The overall size is 51x40x19cm on its easel type base. The viewable screen is 47x27cm which equates to 21.5inches diagonal. You of course get 1920x1080 resolution and viewing DVD's works well from a nearby chair.
There is of course a webcam built into the top centre of the screen surround. The right side of the unit has the optical drive. The left side has a multi card slot, two USB2 ports and external microphone and headphone ports. The speaker is along the bottom on the screen surround and to the left of this is the all important on/off button. The rear has towards the base four more USB2 ports a PS/2 keyboard port, Ethernet and Aerial input. Also just below the screen are several small LED's.
The boot time is around 34seconds and the shutdown from Desktop less than 10seconds. There is a slight problem that initially – if using the Bluetooth mouse and keyboard – it's around another 30 seconds before the mouse and then the keyboard are 'connected'. You can however use the screens touch ability to open programs.
This is a fast Intel i3 system running at 3.3GHz, it has Windows Home Premium 64bit version with 4GB of memory, a 1TB drive (906GB useable). The Windows Experience is 5.0 but that is a little misleading as that is only a single low figure. 7.1 Processor, 7.2 RAM, 5.0 Graphics, 6.3 Gaming Graphics and Hard Disk 5.9, its speedy.
Plugging in my TV aerial gave 113 Freeview TV, Radio and Data channels. You can of course watch and even record TV onto the hard disc. While using the Windows Media Centre you can also use the supplied remote to make the whole experience like a TV.
Apart from the standard McAfee trial and Microsoft Office Starter Edition there are numerous Lenovo badged items some are other manufacturers items like the excellent Cyberlink YouCam software but others – to numerous to detail here – are purely Lenovo items several Children's games including one that gives gestures an implementation.
This All In One, is a very useable Desktop machine, it also works to give TV type use with the Bluetooth Keyboard and Mouse from further away such as browsing websites. While you still need an aerial connection for TV you do not need an Ethernet connection as the supplied wi-fi works well so it could even reside in the bedroom and you could do your emails or write your report while in bed. Having the Media Centre choices built in means that it can be a TV and allows you to have it as a PVR for those programs when you are out – or asleep – when they are on. Of course you can use iPlayer for those programs you forgot to record.
All In One tends to be pointed only towards a printer, scanner and copier but here it's a Computer, TV, Entertainment Centre and all with Touch controls, so at just over £500 for all those modules it is not that expensive.
The Lenovo B320 is available from link below for £551.98 and it also includes a free Internet Security Suite with a retail value of £49.99. Without the Security Suite from the second link for £529.99 with free delivery.
http://www.saveonlaptops.co.uk/Lenovo_B320_1147666.html
http://www.amazon.co.uk/gp/product/B005COIYQG?ie=UTF8&tag=gadge0a-21&linkCode=as2&camp=1634
http://shop.lenovo.com/gbweb/gb/en/learn/products/desktops/ideacentre/b-series/index.html