HP EliteDesk G2 Mini PC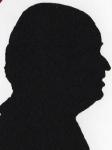 Not the smallest PC I have looked at but probably the one with the most connectivity from such a small box. Things did not start that well but after the initial problems I can honestly say that I thoroughly enjoyed testing this product.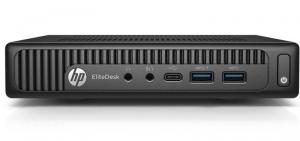 click image to enlarge
My first problem was it did not recognise the keyboard, then I was surprised that it did not have Wi-Fi – or so I thought – so after finding an Ethernet cable I was relieved to find that I could use the WPS button on my router to connect it to my Network. After that being online I could let Windows find a driver for my keyboard and unbeknown to me also one for the Wi-Fi so now I do not need the Ethernet cable. So now it runs as I expected it would/should out of the box. I assume these problems would not occur for 'production line items' or at least I hope so.
It weighs 1218 grams and is 17x17x3.5cm. The way I have described it is Landscape but a small stand is provided to allow it to stand Portrait. Both sides are blank, the base has two rubber runners to keep a clear airflow and the top also has ventilation. The front has a 3.5mm headphone socket and a 3.5 headphone/microphone socket, a USB type C connection and two USB3 ports, finally the on/off button. The rear has video connections for VGA and Display Port, plus a second Display Port option installed on my test unit but this could be an HDMI if you prefer. It also has two rows of two USB3 Ports an Ethernet Port and finally DC input.
While earlier versions of this seemed to have AMD chips this enterprise offering comes with the latest Intel offering a core i7 vPro running at 3.4GHz.
The base of the unit has a Windows 10 sticker although Windows 8.1 or Windows 7 Pro versions are available and the last named is what my test unit had. It comes with 16GB RAM and has a 128GB Samsung SSD Drive that has 103GB of space as the rest is on 'D' and 'E' which are Windows and HP restore drives.
The SSD drives boots Windows 7 Pro 64bit in only 12 seconds showing what SSD can do, however the small amount of hard disc space available may either require an external USB drive or server space dependant on the environment used in.
The box itself has a speaker for basic use and if you connect it to a Display Port panel as I was able to do as I was testing the Philips offering at the time the sound from its speakers using the Display Port lead was outstanding. This could also be true if you select the HDMI version of the box.
There is some HP software supplied with it. I was a little surprised that both the mouse and keyboard each required a USB port surely a case for both being supported by a single port, however there are six so not an immediate problem. One point I am not entirely sure about is that all the USB ports are version 3 so if anyone has anything that requires USB2 specifically then this could be a problem. There is a USB 'C' port the first live one I have seen on a PC.
The HP EliteDesk 800 G2 Mini PC is available from the link below for £980
http://www8.hp.com/uk/en/products/desktops/product-detail.html?oid=9753539