HP Pavilion Slimline S3050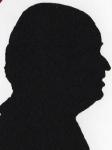 Review controls
Certainly this tower case is tiny, however it does not mean that there is a lack of connectivity within.
Buy Now
HP Pavilion S3050
£699 from PC World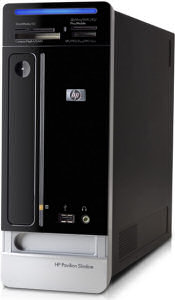 It is 33x26x10cm however to insert various leads in the back you will need to add another 5cm to the 33cm depth.
No monitor or panel is supplied as standard but it is supplied with a DVI to Analog converter should you use an Analog monitor/panel. It has an Intel Viiv Core 2 Duo processor E4300. This seemed to handle everything I asked it to do without problem.
It comes with 2GB of RAM with up to 272MB of this being given to the graphics chip as required by Vista, the graphics chip has 64MB of dedicated RAM and this can be increased to 336MB with the aid of the nicked 272MB if intensive graphics work is required. I certainly found it ran the Glass engine without any problem and any graphical program I gave it. As my knowledge of Vista increases I am coming to the conclusion that 2GB should be the amount of RAM to have.
The hard disc is a 250GB SATA (7200 rpm) 3G drive it comes with a secret partition for system recovery and up to 8GB is allowed for this, drive 'C' is listed at 227GB. Boot time was an unremarkable 65 seconds and shutdown was 30 seconds.
The DVD drive is both + and - R and RW as well as DVD RAM and dual layer it also supports Light Scribe technology and up to 16x is possible. The graphics chip is an Nvidia GeForce 7300 LE offering and I was happy with the display on both Analog and Digital panels.
There is a 15 in 4 card reader and also a FireWire interface as well as x USB2 ports. It comes with neat PS/2 mouse and keyboard. Finally for the internal settings there is 7.1 high definition audio.
Looking at the front there is the vertically mounted DVD drive, above this the four card ports as well as a single USB2 port and earbud socket. The top front houses the illuminated bar to turn the unit on. All the other connections are on the back.
From the top these are the power lead, PS/2 connections for keyboard and mouse, a Digital Audio Out socket, a six pin FireWire port, four USB2 ports. Ethernet port and the six audio sockets for the 7.1 audio. Below this are two half size expansion ports the top one is taken by the Nvidia GeForce 7300 Digital outlet (remember there is a digital to Analog converter provided) with the bottom slot available.
The two panels I tried both used 1680x1050 one of these was the HP 20 inch offering that had refused to show 1680x1050 under the test machine running XP but was perfectly happy under to do so using Vista and the other was the 22 inch V7 offering and this also worked with 1680x1050. The HP 20 inch was Analog so the converter was used and the V7 has both outlets so I used it with and without the converter.
Apart from Windows Vista Home Premium it comes with Microsoft Works 8.5 and some utilities.
Windows Vista provides some statistics and the overall performance is always the slowest one. So Hard Disc 5.5, Processor 4.8, Memory 4.8, Graphics for Aero 3.6 and Business Graphics 3.0 giving the overall performance of 3.0
Doing my Internet searches found a number of sites listing the S3050 as currently unavailable. PC World was the only vendor offering the product as available and at a price of £699.99 :
http://www.pcworld.co.uk/martprd/product/seo/723733

The HP site giving a phone number to call for availability, but no price :
http://h10010.www1.hp.com/wwpc/uk/en/ho/WF06b/35123-35527-39847-39847-39847-13071954-78201167.html