Evesham Solar MX100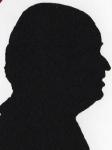 Review controls
This PC has taken longer to review than normal simply because not only did I have a PC to review but also the operating system it was installed with. Yes Vista is supplied with Evesham's Solar MX100.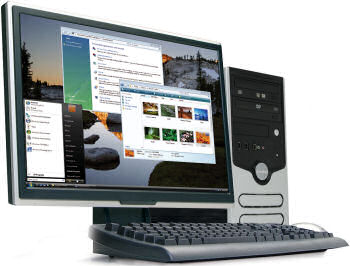 Having recently told you what my first opinions of Vista are (16/4/07) now with thanks to Evesham for their patience lets look at this rather nice PC. Firstly mine came with some quite meaty Creative speakers, a wireless keyboard and mouse set from Logitech, and a 19inch panel that gives a rather good image all within a small total screen surround size of 44x30cm the name on it was new to me Cibox. It is however only an Analogue offering but you can pay extra for a digital model. The maximum screen display is 1440x900.
I could write a piece on the items above but lets concentrate on the system box. It is a tower system 37x17x37cm with all the expected connections in a block on the back. Two PS/2, a parallel, a serial, VGA, an Ethernet and four USB2 ports. Finally six audio connections. Below this is the all important dual digital and analogue video card (so do not connect to the VGA port above) and finally in the bottom of four expansion ports (middle two available) is the twin tuner digital TV/radio card. As with all versions of Vista - apart from basic - you get Media Centre built in, this means the all important remote control and infra red receiver are provided.
The front of the case has headphone and microphone ports as well as a FireWire and two further USB2 ports and the DVD drive. The biggest problem of course was finding your way round Vista to make any adjustments. The front headphone and microphone ports will not work without adjustments as it cannot support two microphone ports at once.
The software supplied as well as a copy of Vista Home Premium is a trial copy of Bullguard security and Anti Virus and a full copy of Roxio CD/DVD software that in my case needed an update to work as the files sent to me were not digitally signed and Vista is very iffy about letting anything not digitally signed run. In fact I am told that anything not digitally signed will certainly not work in the 64bit version, luckily the version supplied here was the 32bit one. The only other item installed here was a version of Works (8.5) note this is not Works Suite so no version of Word. Should you decide that Vista is not yet for you XP can be specified, either way build time is stated at nine days.
The PC has performed flawlessly throughout the extended testing period. Only thing I can recall was on first linking it together I could not find the hidden on/off switch on the 19inch panel that came with no documentation but having located that everything has worked without problem. I have of course had some spontaneous reboots but only while trying to install software that Vista was not made to support. I can say that the message on reboot saying that 'Windows was shutdown to avoid damage to your hardware' was more damaging to my heart as suddenly seeing a blank screen when it is not expected is rather worrying. My advice would be never install anything with anything else opened then your most precious commodity - your data - should be safe.
The supplied processor is an Intel Core 2 Duo 6300 offering. The hard disc is stated to be 350GB actual available on the machine sent to me was 223GB but often sizes increase, and the all important graphics card is a 256MB Nvidia 7600GS unit. There are two 512MB sticks of memory. This is more or less what is required to run Vista with the Aero graphics engine. However I helped things a bit by using a 2GB Ready Boost pen/stick drive. While no data is stored on this a lot of temporary files reside there and it is a good (and cheaper) way to get extra memory. In the options another 1GB of memory is over £100 whereas a 2GB Ready Boost USB2 pen/stick drive is less than a fifth of that. Looking at the specifications the speakers seem to be an extra that cost between £9.99 and £279.99 so I will assume you already have them.
The price from the link below including VAT and delivery is £799. They even have an option to pay next year, see the link for details. If you want to try Vista then getting it on a ready built PC is certainly cheaper, but do check your peripherals will work.
http://www.evesham.com/products/info.asp?e=9F54CFC2-DD47-4C15-880B-CD06D0AE892C