Brother Multi Function MFC-J680DW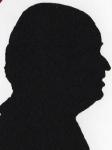 This inkjet unit can print, scan, copy and fax. It is suitable for the home or SOHO user. Unusually it has three paper inputs within its normal sized form. So what exactly can this latest offering from Brother bring to the market.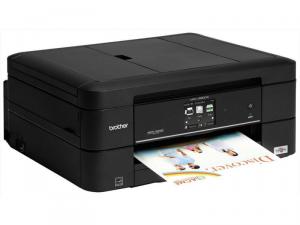 click image to enlarge
Being designed to be left on – to send and or receive faxes – the Brother MFC-J680DW has an extra press of a button on the TFT screen which adds a couple of seconds to boot time. Shutdown also has another press to remind you that you are turning the fax off.
The machine is 40x38x17cm the last figure will need to increase by a few centimetres if placed on a shelf to allow you to put sheets on the flatbed scanner. There is also a sheetfeed but as that folds flat into the lid this only increases the size when open.
Around seven seconds turns the unit on this includes pressing the 'Station ID' request and the time and date appear correctly as the top line of the 5.5x4cm TFT display. The next line is larger and has icons above the illustrations for Fax, Copy and Scan. Either end of this area are back and forward arrows and pressing either will take you to Photo, Web and Apps. The final line is Shortcuts, Cartridge Condition and Settings.
The display itself can be positioned horizontally flat to the front of the machine or in one of three positions up to 45 degrees up from this so viewing angle should always be good. Switching off takes 3seconds including a second press to say yes to stopping fax.
Setup of the unit is straightforward but wait until you are asked to insert the four cartridges otherwise you will have to release each in turn and reinsert them. There is a drop down door at the right front edge and each position is clearly marked.
At the back of the left side is where the kettle style mains lead is inserted and in front of this is where the phone lead is inserted for fax use. As with all Brother units should you use USB you need to lift the scanner bed and feed the USB lead from the back to its connection point near the front.
The main paper tray is at the base of the unit and is designed to fit both A4 and smaller sizes in the same fitment up to 100 A4 and 20 smaller photo pages. There is also a 'sit up' single sheet paper feed vertically at the rear this will take media up to 300g/m².
The output tray/shelf is stated to hold 50 sheets but I would not be happy at half that.
The speed claims are not huge at 12PPM black and 10PPM colour and as these have to meet a fixed standard they must be possible. In my tests from standby to an A4 page being printed was 15.5seconds subsequent pages were of course a lot faster as this figure includes time for processing. Even in 'fast' mode the print was clear and sharp but did have a slight grey tinge to the black.
Scanning is done up to 1200x2400dpi native and the choices are Email, Image, File, OCR or Card. The stated speed given is 3.37seconds mono and 4.27seconds colour at 100dpi.
I could not see any copy speed claims so I did my own. Copying does not require the PC to connected or even turned on and I took the default settings of 'Normal' quality and 100% size and one off pages came out consistently at just over 15seconds.
The Brother MFC-J680DW is available from the first link below for £118.10 with free delivery.
http://www.amazon.co.uk/gp/product/B015SKP46G?ie=UTF8&tag=gadge0a-21&linkCode=as2&camp=1634
http://www.brother.co.uk/printers/inkjet-printers/mfcj680dw#specification-details