Toshiba Cards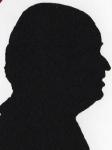 Having recently told you about a 64GB micro SD card from Toshiba, here a standard SD card and a coloured USB stick get put through their paces in a range of devices and also with computers with different operating systems.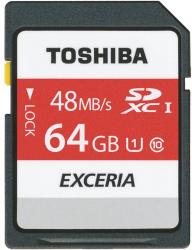 click image to enlarge
64GB SD Card Exceria N301
The cards class and speed make all the difference and when shooting video from a camera is a good way to know if your class and speed is adequate.
Speed used to be easy to judge with the number shown on the card 2 was around 2MB/s, 4 was around 4MB/s, 6 was around 6MB/s, 8 was around 8MB/s and the best was 10MB/s which was a 10.
Then UHS speed class was introduced so you had Class 1 and Class 3 and these then had an addition Video Class I have seen V10, V30, V60 and V90 which can write video at 10, 30, 60 and 90MB/s but what speed do you need, standard video would be happy at V10, full HD needs V30, 4K video needs V60 and 8K video needs V90.
Here I am putting a 64GB 1 10 which has a claimed speed of 48MB/s and is SD XC 1.
To try to line the 48MB/s up with those figures above they are the basic figures and each manufacturer then works out what they can achieve which probably leaves you as puzzled as me.
This SD XC I is UHS Speed Class 1 which should easily cope with any Full HD video you ask it record, and it did quite easily with no frames dropped even when scrolling across a large area.
One of the cameras I tested it with was a FujiFilm XP which can be used underwater but my tests remained above water.
The read speed according to the very small print on the back of the card is stated to be 57.6MB/s.
However all read and write speeds are down more to the unit that the card is inserted in.
The Toshiba SDXC UHS-I 64GB is available from Amazon for £16.78.
Toshiba USB Flash Drive 16GB TransMemory U201
The front of the lime green card says its mini and indeed it is smaller than a lot of such devices but it does have a small hole in one corner so it could attach to your keyring and its turquoise blue colour should also help find it on a crowded desk.
This is a premium quality item that comes with a 5 year warranty which as far as I can gather covers the Flash Drive and not the contents.
It is stated to work on Windows Vista, Windows 7, Windows 8.1 and Windows 10, it has a MAC claim of 10.6.6 -10.10 but as I do not have a MAC I cannot test that. I do still have a Windows XP machine and it also works on that.
As stated on the card the formatted capacity is 14.4GB and this is because both 1000 and 1024 are used as measures in data size so you are not actually being short changed, confused yes, short changed no.
When inserted in a USB port 2.2cm sticks out, in total it is 3.6cm long, 1.4cm wide at the back and 1.2cm wide at the front it is .5cm thick at the back and .3cm thick at the front.
I moved a range of files around without problems on both USB3 and USB2 ports.
The Toshiba USB Flash Drive 16GB Trans Memory U201 is available from Amazon for £3.90.