Roberts Blutune 200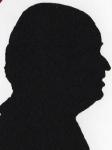 This is a DAB, FM, CD, SD, USB and Bluetooth sound system. There are many other systems that can do some of the things mentioned, but very few can record to SD or USB this system gives you the option to record to both.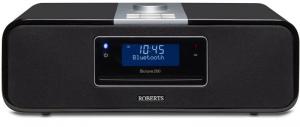 click image to enlarge
The Blutune 200 DAB radion from Roberts measures 35.5x26x14cm, the middle figure the depth includes cables inserted in the back. The last figure the height does not include the rod DAB aerial which extends to seven pieces and 63 cm.
The controls are either by the supplied remote control or the nine silvered buttons three rows of three and large silvered knob on the top centre of the unit.
The central area of the front has a 7x2.5cm four line display white on black which has two LEDs to its left and a infra red sensor and LED to its right finally below these items a slot load CD.
The back is where you insert any SD card, USB stick, USB socket for upgrades, Auxiliary input, headphone outlet and finally two pin mains lead.
The remote is powered by a clock type battery (supplied). The front display would show a digital clock over the top two lines with icons to each side the last two lines show station or other information according to the mode you are in.
The 64 page manual is excellent and covers everything with good clear type – even readable for those with less than perfect sight – and plenty of illustrations so even a total novice should be able to use it.
When I plugged in I waited a few seconds and time and date appeared on the display. I extended the rod aerial changed to DAB and 66 DAB stations were found. DRC is available and while the default display is alphabetical you can change this.
FM also uses the rod aerial and clear instructions are given for tuning, while DAB stations can be preset (10 available) this function is more likely to be useable for FM (also has 10 presets) where you need to remember the frequency of the station you require.
Bluetooth connection is simple just enable Bluetooth on your SmartPhone and the unit should soon find it and it remembers paired devices.
CD's can be commercial or private recording on full size (12cm) discs the unit can also read CD-RW discs once finalised. There are both repeat and shuffle options as well as standard let it play modes. It can also play CDs of MP3 or WMA files.
SD Cards or USB sticks can be played in the same way using the controls on the unit or the remote to move forward or backwards through a single or many folders.
Recording can not only be made from both DAB and FM radio but from the other sources even CDs. All these functions only work while live and cannot be set to record for a future time.
The unit does have sleep and alarm functions and not to have the ability to record a program when you are away is in my opinion one of a very few minus points for this unit.
Sound quality through its 8watt speakers is fine and the unit has separate bass and treble controls.
The Roberts Blutune 200 is available from the link below for £266.21 with free delivery.
http://www.amazon.co.uk/gp/product/B008R89PS0?ie=UTF8&tag=gadge0a-21&linkCode=as2&camp=1634