Roberts SportsDAB2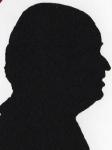 Review controls
Normally small DAB radios require a set of earbuds to be plugged in as they rely on them to provide the aerial, reception is often only so so. Here something different it looks like a small standard radio with a speaker and small rod aerial.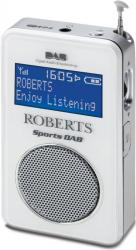 click image to enlarge
The Roberts Sports DAB radio measures 10x5.5x2cm and weights 127grams. Mine was black front and back with silver grey sides to complete it off.
The front has a three line white on grey display showing white on grey display, this is 4.5x2cm display that is easy to read even in sunlight, below this is a 3cm speaker giving acceptable sound while out and about, this is covered by mesh. The right side has a three position control (jog wheel) that allows you to move both back and forward through station names when you get to the one you want press the control to select it a positive pressure is required. This side also has a door covering the DC input to charge the inbuilt solid lithium ion battery.
The base has nothing as does the back the left side has volume up and down silvered push buttons as is the circular on/off. The top has input for headphones or earbuds a lock slider and the four bit rod aerial expanding to 21cm.
On first switch on make sure the rod aerial is fully extended and it will autotune mine found 62 DAB stations. If you need to retune press and hold the jog wheel until find services appears and then you can rescan. Other options are Back, FM Mode, Favourite and Services obtainable by moving the Jog Wheel up or down.
When using FM again use the jog wheel to find the frequency you require this will then change to display the station name. There are of course Presets available for both FM and DAB. Ten for each waveband, set using the Jog Wheel.
The top line of the display shows an icon for signal strength, the current time (24 hour format) in the centre and the battery state on the right. The stated time between recharge is between 15 and 18 hours dependant on using speaker (mono) or earbuds (stereo). This is decided by a formula of up to four hours use a day for the radio.
There is a small 64 page manual that will probably be required to do things like setting favourites as everything relies on the jog wheel and the various sub menus to make changes to what are the standard settings.
I counted eight different settings for the third line of the display including scrolling text again set by the jog wheel. The centre line of the display shows the station and waveband. Should you wish you can have the backlight on all the time (this will of course reduce battery life between charges) but a touch of any button will light it for a few seconds if not set to be always on.
One feature available that may be useful for those who travel is a Sleep Timer but I doubt you would use this feature at home as the unit does not have an alarm.
Ideal for those who are out and about and who prefer to have a (mono) speaker so the unit can sit near to you. There is a set of earbuds provided so for those noisier places or where you cannot make noise you can still use earbuds and of course get stereo output. This is yet another thing that can be set from the settings menu.
Quite a nice – although not cheap – unit however perhaps a Velcro arm pouch for the unit would be nice for runners and of course being black the fingermarks do show so perhaps another colour such as say grey or cream would show them less.
The Roberts SportsDAB is available from the link below for £70.21 (in white) black is £1.74 more.
http://www.amazon.co.uk/gp/product/B003O857EO?ie=UTF8&tag=gadge0a-21&linkCode=as2&camp=1634
http://www.robertsradio.co.uk/Products/DAB_radios/sportsDAB2/index.htm