Pure Evoke Flow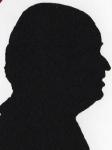 Review controls
When I first opened this box I thought another DAB radio from Pure, after a few minutes use I knew this was something that takes things to the next level. This is not simply a good DAB radio it is much much much more.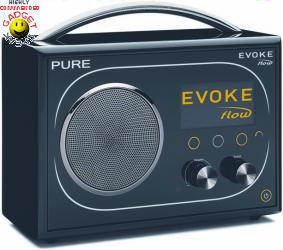 click image to enlarge
The Pure Evoke Flow DAB radio measures 21x14x9cm. The rear has six connections. USB, auxiliary speaker, headphones, stereo out, auxiliary in and DC power input. Towards the top of the back a 70cm seven piece rod aerial starts. There is also a door on the back that can take a proprietary charge pak to allow it to be used on batteries. Neither of the sides or the base has anything.
So this leaves the front, the single speaker is on the left on the right is the six line 6.5x3.5 TFT and two twist and push buttons below this. Just below the TFT are the outline of four touch buttons and below the two twist buttons on the very right side is the on/off touch button.
Which of the touch buttons are available depends on what you are doing, if you touch on/off you are asked to confirm by touching the 'OK' button the second of the four touch/soft buttons. The six line display is brilliant (yes if you want it can be bright or dim) but I mean brilliant for the clarity and what it shows on the six lines. The top line has the time, alarm set, DAB/FM/Lounge etc, reception and more. The second line shows the station you are listening to. Lines three to five show whatever scrolling text (as an option) if this is three lines or less it remains static. Line six shows what the touch buttons do.
In radio mode the left button is for Presets, there are 30 available on DAB and 10 available for FM. To me this may be the wrong way round as tuning on FM requires you to remember the frequency before you can preset. DAB stations are always shown by name.
The third touch/soft button is Options. Here you can set Alarm or Timer this is Sleep, Kitchen, Alarm or Snooze you can choose Radio, Tone or even a sound such as Birdsong. Display Information, Active Operation or Standby Operation. FM Settings that is FM Tuning or FM Stereo. Additional Settings is available for Upgrade (via the USB or wireless) Finally Home and this opens things to so much more. DAB Radio, FM Radio, Auxiliary Input, Media Player or The Lounge.
Auxiliary Input could be your MP3 player or anything else that has a 3.5mm jack.
The Lounge and Media Player both require you to have a wireless network. Entering your security key is a lot easier than on some Internet radios and of course providing you use the same network it is only a one time job.
Most Media Players I have used have been a bit fiddly to setup but once you have a server it was breeze to use.
The Lounge is if you like a huge Wireless Network organised by Pure. Firstly Stations simply thousands from around the world and when you find one you like simply press the left touch/soft button to add it to your favourites. Listen Again has a huge number of programs you may well have missed when they were first broadcast. Podcasts again thousands of programs have podcasts however these tend to have a shorter shelf life. Finally Pure Sounds a whole range of things put together by Pure a total of 78 currently, some nice some nasty. A tuning guide for an acoustic guitar, wooden clock, babbling brook are samples of the nice, city traffic, dogs barking and icy wind as some of the nasty.
When switched off but still receiving power the unit will display the time (using three of the six lines) and the date using a single line.
I can think of few minus points maybe only the fact that it has a propitiatory battery pack.
Doing my Internet searches found the Pure Evoke Flow at a best price of £119.99 including free delivery from the first link below.
http://www.amazon.co.uk/gp/product/B001FA05YU?ie=UTF8&tag=gadge0a-21&linkCode=as2&camp=1634
http://www.puredigital.com/products/product.asp?Product=VL-60896&Category