LG WaveDom Microwave MC8087ARS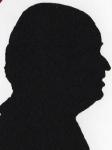 Review controls
This is far more than just a Microwave as it also has a grill and a convection oven. If like me you have had a microwave for 30 plus years what is on offer today bears no comparison.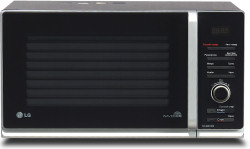 Initially it was hard to think of the LG unit as more than a microwave. I have friends who say they only have/use a microwave, I thought it was impossible but now I begin to see what they mean.
It is 52x40x32cm and much to my surprise a large casserole dish I have at 33cm long works inside on the turntable, it does need to be precisely positioned but that would not even begin to fit inside my own unit.
So you get the oven, a rack on legs, a glass tray and what is described as a rotating ring. A set of documentation including a thin cookbook and - for me anyway - the all important owners manual to help you understand all the symbols on the display.
All the controls are on the final 10cm of the width to the right of the door. There is a 6x4cm LCD display and clock. Below this are six bar buttons which together give nine actions as bars two to four perform two tasks each according to where they are touched, finally a multifunctional wheel with a push button centre.
Unless you have had a similar device before I would certainly read the owners manual thoroughly as you could have cremated food if you do not. The first difference between my unit and this is the turntable, on mine, you need to keep stopping the unit to manually turn it on the glass tray, the LG one of course always turning and that gives even cooking. The next is that you really need a little space behind and certainly clearance above to let the heat and steam exit. According to the manual 20cm above and 10cm behind.
According to the manual setting the clock is important - mine of course never had one - likewise a child lock. There is a quick start button that goes up in 30 second increments for each time it is pressed (technically to 99minutes and 59 seconds) ideal for reheating but this is a far more technical device so use the technology provided.
To begin with the microwave has five power levels from high at 900watts down to low 20% at 180watts. I'm not even sure what my own unit is around 500watts I think but the only choice on that is high or defrost and I think that is just an on/off motion.
For novices there is a page suggesting what should be done on what power.
The grill mode requires you insert the rack, turn the dial to select grill and press start. Next things get more complex as you can set grill combination this is a combination of grill and microwave and while some examples are given it really needs practice as with the grill you normally know by the browned outside that something is cooked, however if the combination is not right the insides could be overcooked.
In a household where people come in at different times the Keep Warm mode is useful and this uses the oven this can be set anywhere between 30 and 90c and it beeps to tell you when the desired temperature is reached.
Other modes include cleaning that can remove smells from the oven and preheat useful when you want to time something especially in combination with a known weight of a substance. There is also an Auto Cook mode where you enter the weight there are five pages that give likely times for known items such as jacket potatoes, pasta and chicken according to the items weight.
I have been using it for a month now and still learning -cremations are now rare- and things like a whole chicken that I would normally have roasted in a normal oven are on the menu. The 48 page owners guide is still always to hand but the LG cookbook has also had a few outings as I get more adventurous.
Doing my Internet searches found the LG Microwave/Grill/Convention Oven MC8087ARS at a best price of £169.99 including free delivery from the first link below. As it weights 22KG when boxed this is an added consideration.
http://www.amazon.co.uk/exec/obidos/ASIN/B000WOSZMY
http://uk.lge.com/products/model/detail/convection_mc8087ar.jhtml