A Bosch Steam Iron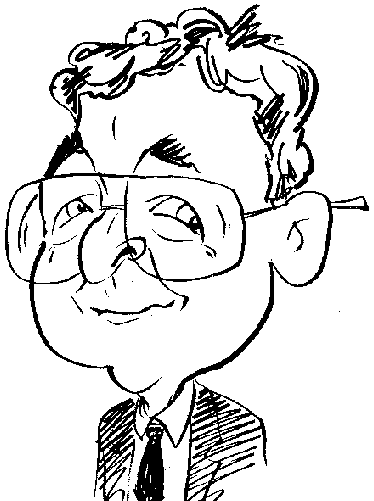 Review controls
Every so often, and it does seem to roll around far too frequently for my liking, I have to venture into the cupboard under the stairs and remove the various house-keeping paraphernalia that can only mean one thing. It is time to face up to the pile of freshly laundered clothing and bedding by making use of the ironing board.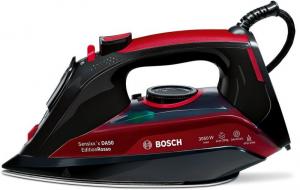 click image to enlarge
With its extensive range of white goods, it is not surprising that our friends at Bosch have a number of irons within their product catalogue. Included in this particular product range is the Bosch Sennixx'x DA50 EditionRosso model. My review sample of this steam iron is predominately black in colour with red highlights and flashes to embellish the product.
While you would never call an iron sexy (at least not in my household), the combination of black and red colour scheme does give this model an appearance that could be described as attractive and stylish. With dimensions of 303 x 151 x 122 mm (D x H x W), this steam iron is a fairly weighty 1.230 kg. I felt that this was rather heavy and took some time to adjust to its weight. The more elderly user might well agree with me although Bosch tells me that their research shows otherwise with the older generation preferring the extra weight.
While I still have some concerns regarding the weight issue, I was more than happy with the length of the attached power cord. Bosch gives you a fairly generous 300 cm of cable length to reduce the possibility of needing to use an extension lead with this device. When not in use this cord can be wrapped around the body of the iron to help when storing this appliance.
An easily accessible opening, usually concealed behind a flap, is positioned on the front of the iron for filling its tank with water. You are supplied with a small plastic cup for use when filling this device. The actual filling is a two handed process. Rather than place the iron on the ironing board while filling its tank, you need to hold the iron at a 45 degree angle while the other hand ensures that the water input is taking place.
This iron has been designed to work with plain water straight from the tap. However, in order to help prolong the optimum steam function and reduce the built-up of scale for those who reside in hard water areas, you might want to mix in some distilled water for each filling. The iron's tank can hold up to 300 ml of liquid to provide a steam output of 50 g/min or water spray. Bosch feels that the tank capacity should reduce the need for a refill during an ironing session – really this situation will depend upon the amount of ironing that needs to be completed.
Separate controls are available to switch between steam output and using a spray of water. Conveniently positioned at the front end of the iron's grip are a pair of buttons that can be used to activate a spray of steam or water as appropriate for a particular article of clothing. Located just in front of these buttons is a toggle switch allowing you to turn off the steam feature or move between the available four levels of intensity for delivering the output of steam to the material beneath the iron. A temperature control wheel sits on top of the iron's body allowing you to adjust this setting from a Min to Max level.
The main business element of this steam iron is constructed of CeraniumGlisėe. This sole plate has a three phase layout of channel outlets for an even distribution of the steam. This also provides a nice smooth passage over the items being ironed while the point tip of the appliance allows you to iron into tight corners.
When I first set up this steam iron for use, I thought I had encountered a problem but this was a false alarm. After adding the water and switching the iron on, I left it for a short while and heard a "plop" sound which made me think I had blown a fuse. Fortunately this was not the case and the sound was just an indication that the iron had reached the designated temperature and was now ready for use. Apart from having to replenish the water supply part way through the task at hand, every thing ran smoothly as you would expect, no pun intended, when ironing.
Once I had got use to the weight of this product, it was easy to use and produced good results. There is a drop protection feature and a "calc'nclean" function to help remove scales particles that can build up in the steam chamber. Bosch has priced this steam iron at £69.99 although a Web search might produce a lower price.
http://www.bosch-home.co.uk/our-products/ironing/steam-irons/TDA5070GB.html?source=browse