Doro Arc 9 +2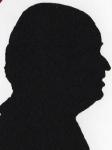 This is a DECT phone (well three DECT phones actually) and the base station unit is also an answering machine. As I have found with all the Doro units I have looked at there are lots of bits individually wrapped in a single box.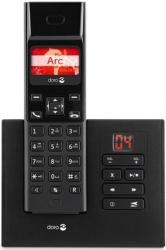 click image to enlarge
Setting up the base station means finding a power adapter (it always seems to be the one with the smallest end. The base station itself is easier as that is the biggest one and the handset. This is hardest as all three are the same wrapped side by side in tissue paper and only by unwrapping and installing the two 'AAA' rechargeable batteries and fitting the cover will you see the number you want DORO 1.
Each handset is 15.5x4.5x2cm and weigh 115grams. Each has a 3x2cm colour display not as good as the
Doro TH80 but a lot better than most if a little let down by the slightly crudely drawn graphics. However what they all do is obvious.
There is a manual the first twelve pages are in English and talk you through setting everything up in clear easy to follow language.
Your first job will be to set time and date as the answering machine cannot be used without this. However this has one huge drawback if power is lost so is the internal phone book and even your messages. This to me makes this a less than perfect unit. Even if power is lost for a few seconds the date and time etc are lost and need to be reset. I realise this would require a battery in the base station as well as the phone but something to save settings and messages is to me anyway essential.
Messages can be played back on the handset – for privacy – or through the base station. You can setup two messages (one for answer only) or just use the default offering.
The handsets themselves have 24 keys including the ubiquitous five position joystick. The display is clear and easy to read. Do not just think of this as a landline phone as it is more like a mobile as of course providing there is power in the two 'AA' batteries it can work a good distance from the base station. I walked around 40 metres down the road while holding a conversation and it was still clear and easy to follow. The stated range is 50-300 metres depending on what the unit has to work through. I assume that the 300metres would be in a fallow field in Norfolk.
In fact if your remote stations are say twenty metres away and twenty metres away again you could probably easily get 100metres in most house/office environments no matter how many concrete beams etc were in the way. You can of course page the remote stations so it becomes very useful if say one is in a greenhouse at the bottom of a long garden providing of course it has power to charge the phone.
The handsets have four rows of icons and even a background scene (changeable) so even when the unit is away from the charger it is easily readable and thus a single line can have multiple uses and users.
Providing of course the power is not lost to the base station you can save up to 100 names and numbers in the inbuilt phone book. The incoming number shows who is calling and the last 30 missed calls. You can even set an alarm. Briefly the changeable items are Tone Setup, Language, Rename Handset, Background Wallpaper, Colour Theme, Contrast, Auto Answer (default is no), Call Barring, SOS numbers, Select Base and finally great if you have young children Reset Defaults.
It is possible to access the answering machine remotely and this could be useful for the SOHO worker. I know it is possible to buy the unit Doro Arc 9 (without the +2 element) as currently I can only find this unit on sale in the UK.
With the one drawback of possibly losing power on the base station and thereby your settings this is a decent quality DECT phone, the quality of sound from the recording – even those left in a noisy environment – is good so if you do not suffer from power cuts of fluctuations then this is certainly worth considering.
Available from the link below at £39.99 including free delivery.
http://www.amazon.co.uk/gp/product/8374044845?ie=UTF8&tag=gadge0a-21&linkCode=as2&camp=1634