Jabra BT4010 - a bluetooth headset without flashing lights!

Published Oct 13, 2008 Author
petew
Review controls
I've reviewed a good number of Bluetooth headset here at Gadgetspeak. Each had strengths and weaknesses, but one thing they have all shared is an irresistible urge to show off colourful LED light displays.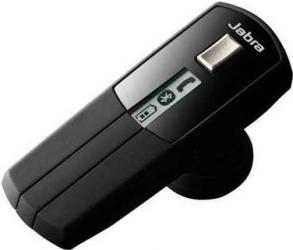 Many would be quite at home on a Christmas tree. I'm very pleased now to review the 'boring' BT4010 from Jabra. Why boring? Well it's resisted the urge of it's erstwhile counterparts to show-off to the world it's ability to dazzle in the visual spectrum and instead limited itself to a small, lower power monochrome LCD display with various symbols to show status.
The argument many may make for insisting on encoding a multitude of status information in up to four colours combined with various combinations of flashes and even, in some cases, squawks and beeps, would undoubtedly be size restrictions - we'd love to have a nice display - but you wanted it small didn't you?
The Jabra BT4010 again stops this argument dead. Despite it's LCD display this cool little headset weighs a mere 10g and by my measurement 49x17mmx11mm (LxWxH) - smaller than all of the products in my last Bluetooth headset round up back in July.
The LCD display has separate symbols for battery charge, Bluetooth and incoming call. These symbols can either be off, on or flashing to indicate state. The key is a flashing bluetooth symbol is easily associated with pairing rather than having to remember colour X means bluetooth (OK most of them do at least manage to associate blue with bluetooth!). I'm not entirely sure why there needs to be a call symbol.
The LCD panel doesn't seem to have added to overly drain the battery with this lightweight device providing 150 hours of standby time (a full working week plus most of the weekend) and talk time of 6 hours. Not quite as good as some competing products but enough for most people.
I paired the BT4010 quite happily with both my Sony Ericsson K800i and the excellent Skypephone S2 recently reviewed. Pairing with both was flawless.
The lightweight and slim profile of this headset made it very comfortable in use - for those with longer hair it's also one of the most discrete headsets. It is provided with two different sized ear hooks and although the documentation suggests that you can use it without a hook, I found it felt insecure without.
Call quality and volume was very good. Using the headset in various situations I had no problem hearing the caller, even with moderate road background noise. Call quality at the other end wasn't quite as good and there were a couple of times with traffic background noise where I couldn't be heard at the other end and had to use the handset. Unless you're expecting high levels of background noise though you should find the 4010 works adequately.
The device has three buttons : call answer/end and volume up/down which will allow access to all the available functions including redial, reject and initiate voice dialling.
The package comes with headset, two ear-hooks and a charger using the (somewhat uncommon) micro-USB connector. Instructions are in the form of a short fold out leaflet that covers everything you'll need to know with a font that's not as small as many, and that has plenty of diagrams.
Priced at as little as £20.50, including delivery from Amazon this is a great headset at a very good price.
http://www.amazon.co.uk/gp/offer-listing/B001CR82LO?ie=UTF8&tag=gadge0a-21&linkCode=am2&camp=1634
There's not a lot of information on the Jabra site - if you want the full technical spec then take a look at their PDF datasheet :
http://www.jabra.co.uk/Sites/Jabra/UK-UK/Headsets/Pages/JabraBT4010.aspx