Windows on a phone from Palm?

Published Dec 2, 2007 Author
petew
Review controls
A couple of years ago such a situation would have been hard to fathom - Palm virtually single handedly created the Personal Digital Assistant (PDA) market, only to be challenged by the might of Microsoft. So - how is the fruit of this unlikely marriage? We take a look at the Palm Treo 500v.
Buy Now
Palm Treo 500V
Available on contract
exclusively from
Vodafone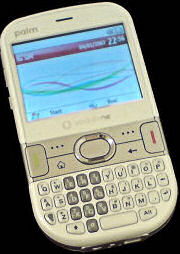 As an early adopter and fan of the Palm concept I owned one of the very early Palm Pilot products from around 1998 (still in use by my Dad) and still have a Palm V (circa-2000) in daily use. Times have changed though and the advances in technology have allowed phone, PDA, camera and media-player to converge into a single unit smaller than the original chunky (by today's standards) Pilot.
As a pioneer in this field Palm had their own operating system and fought a very valiant effort against Microsoft's attempts to side-line them. One of their key advantages was their light-weight operating system requiring very little memory and capable of running on old Motorola 68K processors giving battery life measured in weeks. Microsoft's just couldn't compete with them given the technology of the day - early Windows CE machines required orders of magnitude more power and memory and were consequently bigger, heavier and in constant need of a recharge.
That Palm advantage has been eroded by chip manufacturers to the point where a full Windows CE system could fit into a competing package. This coupled with the feature set of Microsoft and corporate demands for compatibility with Office desktop products saw the writing on the wall for Palm OS.
The final barrier to non-Palm OS product came with when Palm spun the operating system off to a separate company, allowing it's products to become operating system agnostic.
Well, that's all history - this is my first experience of this new generation - the Palm Treo 500v Smart Phone, powered by Microsoft Windows Mobile 6 Standard. Although the literature tried to position this as a phone for everyone - I think it's best suited to the business market, competing with Blackberry for email and sporting Microsoft compatibility to keep corporate IT departments happy.
The phone supports 3G data speeds, which right now is primarily a business service (unless you're rich). Battery life is 10 days on standby and 4.5 hours talk time. Using the entertainment services on the device will however tax the battery and you'll find yourself needing to charge frequently.
All the usual features are present : blue-tooth, camera, address book, media player, Internet, email.

For a PDA the product is physically fairly small - measuring about 6cm by 11cm by 1.5cm (width x height x depth) - small for a PDA although wide for those used to a more traditional phone, which takes a little getting used to when holding to the ear. It is however slim enough to slip into a jacket pocket and light enough at 120 grammes that the pocket won't be weighed down.
The extra width provides for both a good width screen and also a full QWERTY keyboard, as you should be able to see from the photos the buttons are however very small and not for those with 'big thumbs'. The screen is both bright and clear offering a 320x240 pixel resolution.
The bottom of the device has a standard USB connector and jack-socket for the head-set.
The Treo comes equipped with just about everything you need to get going :
the phone itself
quick start guide
good quality, English only manual
the ubiquitous 'EULA'!
a USB charger (or you can charge from your computer)
basic stereo headset
USB lead
installation CD for your computer
The only addition I'd got out and buy is a soft pouch to protect both the screen and the otherwise unprotected camera lens.
Unfortunately the CD would not work in my computer - insisting on having Flash 8 installed. Despite un-installing and then re-installing Flash the CD steadfastly refused to move forward. This did not particularly affect my use of the phone - Windows Vista appears to come with everything that's needed already installed (in Ultimate edition at least). Simply connecting the phone to the USB input on the computer made everything spring to life, offering me the option to synchronise media files.
Internal available memory on the phone out of the box was around 150M bytes. If you want to use the media player facilities or camera then you'll need to more than that. Expansion is via a 'microSD' card, which sits underneath the battery in the back of the device. With a 2Gbyte micro SD card costing only £10.69 then buy one at the same time you get the phone.
Data transfer across the USB to internal memory was somewhat slow. Transferring 100M byte album took around 30 minutes giving a transfer speed of 3M bytes per minute. Another reason for using an external memory card - with a card reader to do bulk transfers.
The integrated camera has a 2M pixel sensor that gives good results, although there is no integrate flash and so you're limited in the environments in which it can be used. Like many phones these days there is no cover for the lens and I can't help but imagine how scratched the lens will come after rattling around someones pocket or handbag for a few months.
Media capabilities are provided by Microsoft's mobile media player. This worked well for audio which can be reproduced either through the included head-set or through the internal speakers. I was very impressed with both the quality and volume of the internal speaker. It's playing right now (Pink - Oh My God) on my desk as I write this review - very good! Transferring music to the memory, although slow, worked fine - and then a 'library update' made those files available to the player.

Video wasn't particularly successful. I have a number of video clips that I've used on various players. On the Treo one failed with an invalid file format error, and another would only play the sound track. Media Player on Vista complained that the file extension was unknown (.mp4!!) but then played the video perfectly. The only video that would play was a WMV format sample clip from Vista. Now the resolution wasn't ideal for a portable device (3.8Mbytes for 13 second clip) but the Treo had real problems playing this - it resembled a slide show rather than video.
With the business focus of this phone the office software is obviously very important. The Microsoft platform does help in this area, being shipped with Microsoft Mobile Office (which includes Outlook, Word, Excel and PowerPoint). I transferred a selection of Word and Excel files to the device and had no problems opening or editing them, despite a warning when I transferred them from my computer saying I wouldn't be able to use them on the device (a 'helpful' feature of the Windows Vista software I think rather than anything to do with the Treo).
I've already mentioned the small QWERTY keyboard. This is very pleasant to look at - in use each of the keys is illuminated. They are however very small and I was concerned about how usable they would be in practice. To give it a proper test I wrote out a couple of paragraphs of this review.
Typing requires the phone to be balanced in your fingers with thumbs used for typing. I initially found this a somewhat strange experience, I think because after years of typing, my fingers naturally wanted to take over their standard qwerty configuration.
After a couple of sentences though I managed to get the hang of the layout and found text entry to be a reasonable experience, although I wouldn't like to write more than those two paragraphs at a single sitting. For business use the keyboard would be perfectly usable for replying to emails and possibly checking existing documents. For those that never got the hang of 'predictive text' and 'texting' the QWERTY layout is definitely more usable.
The Windows multi-tasking was a very pleasant change. Unlike other phone's I've used the Treo was quite happy letting me edit a document while listening to the media player and copying a file onto the phone's memory (although there were a couple of pauses in the music when things got get busy!). The down side of this though was trying to find what was actually running.
On the whole I quite liked this phone. It's not the Palm of old - there's no hand-writing recognition, touch sensitive screen or other items I'd come to love about my old Palm. It is however a solidly constructed, light device that is ideally suited to those business environments where the IT department demand Microsoft solutions. With it's on-line capabilities and qwerty keyboard it's also an ideal alternative for those that want Blackberry type email but integrated with a mobile phone.
Right now the Palm Treo 500v is being sold exclusively through Vodafone in the UK and is available for free on contract :
http://shop.vodafone.co.uk/index.cfm?go=paymonthly.productdetails&pid=544&WT.svl=link1