Adlens Adjustable Lens Glasses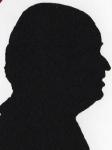 At a recent press event showing new products one item got me excited – although there were other interesting items – that item were these brand new adjustable lens glasses that enable each eye to be suited and for good measure they cut out 80% of harmful blue light.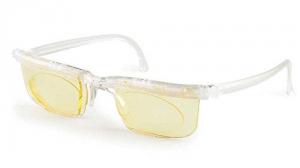 click image to enlarge
Now if you are lucky enough to have 20:20 vision these are not for you, if you have a pair of glasses that suit all situations these are not for you apart from the blue light reduction ability. However if your eyes are different in their seeing ability a specialist pair of glasses can correct your view on the world designed for a specific situation such as a computer screen, TV or driving.
Many glasses are bi-focal or tri-focal to try to cover every situation but there will always be a situation that none of the prescriptions work perfectly for and then these will fit the bill for most.
They are 13cm from side to side, 3cm from top to bottom and just 13cm from the front of the lens to the back of the support arms.
The plastic lenses are yellow and this initially gives a slight tint there job is to cut out harmful blue light for me although this is important it is a minor thing as it perhaps detracts from each lens being adjusted by a little twist device on the outside edge of each lens to a setting of between 1 and 2.75 so the difference for each situation is large.
As an example without any glasses I can read my computer screen quite well given my chair is in the normal place and there are no unusual light sources. For me this is 53cm from my left eye and slightly more for my right eye as my left eye is what is termed 'lazy'.
However place the container for these glasses on my desk about the same distance away to one side sees me easily able to read the large print but the five lines saying what they are in five languages are a total blur and even if I pick up the container and move it 50% nearer they remain unreadable, put the adjusted glasses on and it becomes clear – pity I never learnt to speak other languages – but I can read the letters even if the words are all Greek to me.
There is however a disclaimer on the side of the container saying ready to wear non-prescription glasses are not designed to replace prescribed corrected lenses. This I would not be able to read without my reading glasses which of course are not useful when at the computer screen, neither are my TV glasses and this is the beauty of these glasses designed they say as 'adjustable focus computer eyewear' and indeed if I am at a strange computer with a different screen or at an unusual angle they are useful but also for people like me with different eye sight abilities they work for other purposes with a few turns they suit a whole range of situations and if you stare at a screen all-day then the blue light reduction will reduce eye strain and improves the contrast.
Adlens Adjustable Focus Computer Eyewear are available from the link below for £27.43 with free delivery.
http://www.amazon.co.uk/gp/product/B00QKV1C3C?ie=UTF8&tag=gadge0a-21&linkCode=as2&camp=1634