Table Drums and Kids Pens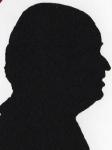 Review controls
An interesting mix an executive toy and something that never existed in my childhood pens designed especially for use for left or right handed children, they even do different models according to the age of the child.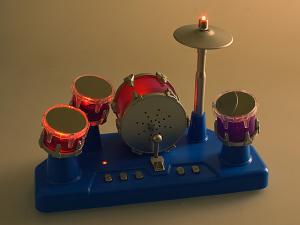 USB Touch Drums
As regular readers might guess these are from Brando those clever people in Hong Kong who seem to do everything USB.
There are a maximum of 19x9x14cm. They are about the size of a decent paper weight. It can be used with 3x 'AAA' batteries or it can be USB via the supplied 50cm USB lead.
There are three standard drums as well as a base drum and a single cymbal. The base drum only works when a finger touches a small touch control (made to look like a foot) behind the drum. The cymbal needs a fair crack on it to work but the three standard drums only need a light touch to make a sound, they also light up when struck.
There are five buttons behind the drum set, power, demo, start, record and playback. When you press the power button there is a small red LED to show the drums are live if you do nothing this will switch off after around 150 seconds.
The second button demo plays a pre recorded 15second solo. The third button start allows you to play your own thoughts either solo of along with whatever. When perfected press the forth button record and then you can playback your own masterpiece using the fifth button playback.
There is an instruction sheet but once you have worked out the raised lettering behind the buttons that comes in the same colour as the background its all pretty clear.
The sounds from each of the drums are different so with little talent you can develop your own sounds to muse by.
Available from the link below for $22 US plus a standard delivery charge of $3 US whatever the size of your order. They are available in blue or red.
http://www.usb.brando.com/usb-touch-drums-set_p02048c035d15.html
Stabilo Easy
At this years BETT show I only saw one thing that was entirely new to me, not a computer, not a printer, not a whiteboard not a projector although there were lots of all those, but children's pens designed for left or right handed use.
When I was growing up we still used fountain pens (I know I'm old but we did not use quills) biros were around but not acceptable until I seem to remember near GCE time.
First I used the Easy Original these are marketed as for 6+ and are the same shape apart from smooth parts of the design for finger placement being on opposite sides dependant on left or right handed use. As they have a slight curve they sit on a table naturally with the left handed curving left and the right handed curving to the right.
These are three piece pens supplied with three separate inks, mine were all blue. Unscrew the base remove the cap insert the ink module and screw up the unit and you are ready to write. There units come with erasable inks.
I was only sent one Easy Gel unit and this was designed for 12+, this looks far more like a standard ballpoint with a click base to expose the point another press to retract it. It would have been nice to compare both left and right handed but I assume the indentations on the rubber grip in the centre were different to aid good handwriting.
Finally I was sent one for 5+ that looks like a pen but was actually a pencil (complete with sharpener) called the Easy again this had a rubberised grip in the central section; again I was only sent a right handed model. No doubt this with its thick lead is to encourage the child to write especially as it looks exactly like it's a pen.
http://www.stabilo.com/pages-uk/ergonomics/index.php Lots more info from this link.