Trek A26 portable speaker

The TREK A26 wireless portable speaker is a robust unit having Bluetooth and NFC connectivity that has been designed to withstand the elements and so should be able to survive the weather at a music festival.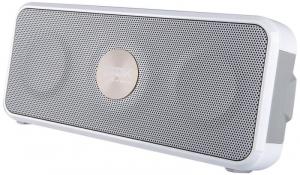 click image to enlarge
The A26 forms part of the TDK Life on Record brand. It is 7 x 3 x 1 inch and weighs 12oz. finished in black with the exception of the central silver disc carrying the TDK logo. The built-in tilt stand folds flush with the back of the unit when not in use so is unlikely to get damaged in normal usage or even when carried around in a rucksack. With the exception of the on/off switch, 3.5mm Aux. and micro USB power input (charging) socket which are covered with a splash-proof rubber flap when not in use, there are no visible ways that either dust or water can get in.
When this concealed power switch is Off the push-button controls set into the top of the unit are disabled so it can't be switched on by accident and the batteries run down. The touch controls are on/off, plus/minus volume, Aux, Bluetooth pairing as well as phone. This latter enables one to answer calls on one's Bluetooth paired phone and use the Trek as a speakerphone as it incorporates a built-in microphone.
The sound output is from two 1.5 inch speakers together with two 2inch passive radiators which deliver the 2 x 2W output. Even though you cannot expect much in the way of bass from such a small unit I found it adequate and, overall, the sound smooth when listening to a variety of material and that the output was more than adequate for use indoors. Furthermore, I think that it would be suitable outdoors as long as there was not too much extraneous noise.
The NiMH batteries are claimed to give up to six hours playing time. This, however, will be determined by the volume level. There is a note on the instruction sheet pointing out that batteries have a limited number of charge cycles and that, in due course, they may need to be replaced. It adds that there is information on the web site giving instructions on battery replacement.
Overall, the Trek A26 is an extremely practical unit for anyone who needs a portable speaker as it provides reasonable sound quality and volume will stand up to everyday usage and does not have to be handled with kid gloves.
At a list price of £79.99 but available on Amazon for £64.84 it appears good value for a portable speaker that will be put to good use and should continue to give good service for quite a long time.