Notebook Backpack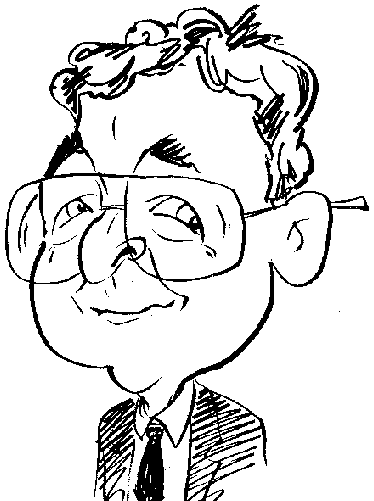 While some prefer a shoulder bag for transporting their notebook, others plump for a backpack style of carrying.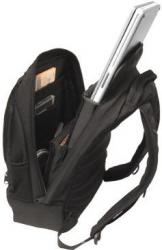 click image to enlarge
Although notebooks are sometimes regarded as desktop replacement units, they are designed to be easily portable. However the means to carry the notebook is not considered to be part of the standard package. This omission has given the opportunity for various manufacturers to come up with cases and bags for carrying notebooks of different sizes.
One such company is Brenthaven which based in Bellingham, Washington. Brenthaven manufacturers Apple cases, Shoulder cases, Backpacks, Sleeves, Wheeled cases and Messenger bags. Forming part of the company's Zero Impact range is the Brenthaven MetroLite Backpack. Designed for the urban professional looking for style and functionality, the MetroLite Backpack is available in titanium, scarlet red or jet-black with this review being based on a unit that was of the latter colour.
This backpack has a burnt orange interior while red stitching helps decorate the exterior. When carrying this backpack you have a choice of the standard padded shoulder straps or a padded, slim-line hand grip. The straps connect to the sides of the backpack with quick release catches. When not in use the straps can be tucked away in an external pocket of the back of the unit.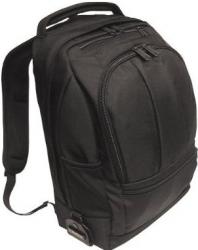 click image to enlarge
The main central compartment of the backpack holds a pouch padded with high density foam with an elasticated restraining strap. This pouch can hold a notebook from 13.3" to 17". A couple of pockets are available in this compartment for storing various peripheral devices such as a mouse or spare battery pack.
A second compartment, with less padding, is located at the front of the backpack. This compartment contains various pockets, of which a couple have Velcro restraining straps, which can be used for storing items. In addition there is a zipped, nylon net pocket, name card slot and a key holder.
If additional storage is needed then this Brenthaven backpack has various zipped exterior pockets providing quick access to various devices. These pockets could be used to hold documents, a mobile phone, an extra battery or power leads. While you may prefer not to use the pocket located on the back of the unit (actually this is the front as it rests against your back), due to reasons of comfort, you could use it as the means to attach the backpack to wheeled luggage in order to help ease the burden of bearing the weight yourself. All the various zips that form part of this backpack have material tags to help when opening or closing them.
The Brenthaven MetroLite Backpack has enough storage compartments for most eventualities and generally feels comfortable. The product comes with a lifetime guarantee, presumably the backpack's life and not yours, and bears a price tag of £59.95. This product is available from the Brenthaven website or most Apple stores.