Two Brando Gadgets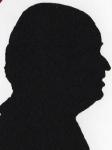 Here I am looking at what is described as a 3.5inch HDD enclosure but it offers a lot more than that, and then, what is described as the Worlds Smallest 2.4GHZ Wireless mouse.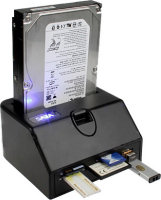 3.5inch HDD Enclosure
While the likely main use of this product will be to transfer data from a SATA hard drive (both 2.5 and 3.5inch accepted) to other media it can also be used as a station to transfer data from all sorts of other connected devices.
It is 12.5x12x7cm, matt black in colour and weights 465grams. The top has the vertical entry point for either a 3.5 or 2.5inch hard disc. The front edge has slots for xD, SD, Memory stick and Compact Flash cards however the latter will not take the slightly larger
Micro Drive. There are also two USB2 ports. The sides and base are bare with the back having an on/off switch, power input, USB socket and an ESATA socket.
So your PC can be connected to the box by either ESATA or USB. Universal A/C adapter provided as well as cables for power, USB and ESATA.
For anyone who needs a method of transferring large amounts of data from various media then this device could be very helpful.
This is the one product from Brando that I have come across that does not come with the $3US shipping charge. It requires a lot of extra packing and their fee for this shipped to anywhere in the world is $25US. So the price from the link below is $54US + $25US a total of $79US and that is (at current exchange rates) a little over £40.
http://usb.brando.com.hk:80/prod_detail.php?prod_id=00516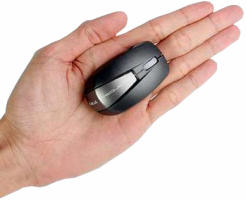 2.4GHz Wireless Mouse
This is a very small mouse and it has a tiny wireless sender. When I say tiny it's 7x3x2.5cm and weights only 33grams. The sender is 2x1.2x.5cm and does not even register on my scales.
Before first use you need to plug the supplied micro USB lead in the front of the mouse to charge it. The first charge will take up to ten hours (subsequent full charges take only three hours), while charging the scroll wheel glows red.
It has the normal three actions, left, right and scroll wheel between the two. There are not actually any buttons as pressure anywhere towards the front registers as a click. The mouse is very sloped I gave the measurement at the back but at the front it's only a little more than 1cm.
The charge lead is also tiny and the USB lead retracts either way into a central core so both plugs and the central core come to less than 10cm.
The operations are straightforward but there is a multi language Product Description sheet with text and illustration. The packaging says it's the worlds smallest 2.4GHz Wireless Mouse + receiver. Available in Silver or black
Available from the link below at $29US plus $3US for delivery anywhere in the world.
http://usb.brando.com.hk/prod_detail.php?prod_id=00511&dept_id=015&cat_id=037