Acer Chromebox CXI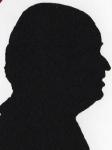 I have reviewed several Chromebooks before, they are small laptops running the Chrome operating system. This however was the first Chromebox I have reviewed it is a full featured PC all you need to add is a panel via HDMI or DisplayPort.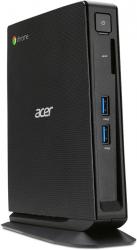 click image to enlarge
It is 16x12x3cm and if you add another 3cm to the second figure – depth - for inserted cables that is the total size of the Chromebox. It weighs only 537grams.
It comes with a keyboard and mouse both of which are USB, and, a mains lead.
There is a small fitment provided to go on the bass to aid stability but in my tests it was not required. The sides, top and base have no connections.
The front has on/off button an SD Card slot and two USB3 ports. The rear has a Kensington Lock port, headphone out socket, Display Port and HDMI for panel connection, two further USB ports, an Ethernet connection and finally the DC input. The supplied lead is 1.8metres to the power brick and then another 90cm to the mains plug so 2.7metres in total.
While on cable lengths both the mouse and keyboard have 1.7metres leads. The keyboard has 96 keys and the mouse two buttons with a scroll wheel in between.
Anyone who wants simple computing with email and Internet with web use and other basic features might like to consider Chrome especially if they cannot stomach Microsoft keep changing the operating system, many still use and love XP at their peril.
When Chrome first came out a lot of people were still on dial up and Chrome at that time was only useable while you had an Internet connection. Now however some things can be done like simple word processing offline so if your Internet goes down you are not restricted to doing the washing up or the ironing.
I connected the Chromebook to a TV that had HDMI and because of that had perfectly acceptable sound through the TV speakers. It also has Bluetooth so you could use that connected to a Bluetooth speaker for sound. If required you can attach the Chromebox to the back of a flat panel.
On first setup you can enter a WI-Fi passcode and so even though the unit has Ethernet it is not required but is available if needed by just plugging in an Ethernet lead and that will override the Wi-Fi and give Gigabit Ethernet performance. For large files just plug in an SD card up to 32GB and they are available.
Bootup is fast at under 10 seconds and near instantaneous from standby. It comes with a 16GB SSD drive and can have up to 4GB of DDR3 memory which means videos stream without problems.
There is a 'Chrome' store that has things you might like to download to give you a more full featured experience. However if you use and need Windows programs then this will not suit you.
Do check that your printer/all in one works before you purchase if it supports printing over the Internet as most recent units do then you should be OK.
A very nice compact unit that could be totally hidden away, you have Internet and email so web searches and downloads are available and as the Chrome system has few add-ons there is less to learn.
The Acer Chromebox CXI is available from the link below for £178.79 with free delivery.
http://www.amazon.co.uk/gp/product/B00OORYBA0?ie=UTF8&tag=gadge0a-21&linkCode=as2&camp=1634