HP Envy TS 23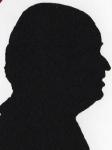 Review controls
The most recent notebook I reviewed had Windows 8 – sadly without touch – it also had a Gigabyte motherboard. This is an All in One PC from HP with Windows 8, touch and it has a Gigabyte motherboard and even a TV tuner.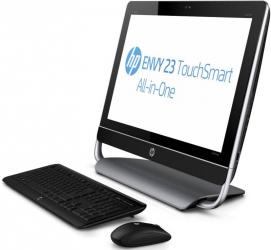 click image to enlarge
Windows 8 no longer contains Media Centre, so here the card required for TV is provided by Aver Media and of course the remote control to make channel changing easier.
Here 'All In One' means that the screen contains the PC as well as being a touch flat panel. The external parts are only the Wireless Keyboard, Mouse and Remote Control.
The screen is 57x40cm and the stand is attached to raise this by 7cm above your desk. The stand is almost as wide as the screen and is 20cm deep with only 4cm of this in front of the screen.
The viewable screen is 51x31cm giving the notional diagonal imperial measurement of 23inches.
While I am yet to be totally convinced about Windows 8, in its 'touch' incarnation here it is far more desirable than without it.
All the connections are on the left and right sides or the back of the screen. They are on the left a multi card slot, two USB3 ports and two 3.5mm sockets for external microphone and earbuds. On the right is the DVD multi drive. The rear has four USB2 ports, Ethernet, DC input and Aerial connection.
Unlike a separate panel there is no movement in it.
There are internal speakers that give a perfectly good sound, the Wi-Fi is also excellent and the webcam works well as does the inbuilt pin hole microphone for things like Skype.
It has an Intel Core i5 2.7GHz processor, 6GB of RAM, AMD Radeon 1GB graphics card, Gigabyte Motherboard, the screen is multitouch (10 point), 2TB SATA hard drive, Blu-ray player and SuperMulti DVD burner, Beats Audio speakers and HP TrueVision HD Webcam.
The Aver Media TV tuner was easy to do the basic configuration. While it found most of the Freeview channels it does not have the radio component most Freeview units have. You can record to hard disc but there is no second channel option and of course the unit has to be switched on to record so its not really an alternative to a standalone PVR.
The only documentation I received was a PDF file so I cannot comment on whatever paper documentation you may get. On to the provided software as Windows does not any longer provide Media Centre you need software to play DVD's and have always needed external software to play Blu-rays this is provided by Cyberlinks Power DVD that comes pre installed. Windows 8 64bit version is also pre installed and a 15GB 'D' drive has a recovery version should it be required, no physical media is supplied. Other supplied software includes Skype, apps from Microsoft and HP and Norton Security.
Watching DVD or Blu-ray can be in compact mode which can either be in a Window or a larger – not full screen mode – or in Cinema mode which you are warned should be viewed at a distance using the remote where the full width (51cm) of the screen and 22cm height are used for a typical DVD or Blu-ray. In the course of the review I found it was required to watch several and both video and audio were of good quality.
Bootup is 18seconds and shutdown is 5seconds, good for a unit without an SSD.
My one worry is that do you really want to be close enough to touch the screen of a 23inch panel, of course the wireless keyboard, mouse and remote control mean you can control it from a distance but then there is no touch, if of course you are short sighted it is a great idea otherwise maybe not. Certainly a PC with Windows 8 needs touch and maybe a notebook is ideal but a 23inch screen which handles DVD well from the length of a lounge is superb, testing other programs and Apps also worked well with no problems as this is a powerful machine with quality components, I find that AMD and Intel can mix and include a quality Gigabyte motherboard make it an interesting product.
The HP Envy TS23 d090ea is available from the link below for £999.99.
http://www.currys.co.uk/gbuk/computing/desktop-pcs/all-in-one-pcs/hp-envy-touchsmart-23-d090ea-23-touchscreen-all-in-one-pc-17392843-pdt.html#longDesc