Alba Portable DVD Player (DVDP721)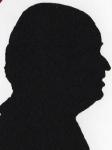 Review controls
Say it very quietly I am looking at something that is pink, in fact worse than that it's a series of things that are pink and at least one of them will not be able to be used behind locked doors.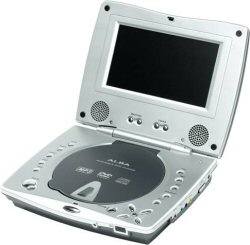 Apart from the fact that it is obviously aimed at the female this is a rather good small portable DVD player. The claimed time for use on batteries is only two hours but I never got less than 165 minutes and on one occasion I got 174 minutes. You can of course run it from the mains and should you wish you can plug it into a TV.
It is 20x17x5cm and while the outside is pink the rest is a far more acceptable silver colour except for the lid of the DVD which is that pink colour again. The wide angle screen is 16x8cm giving the notional 7 inch viewing size. I suspect most people will view it at less than arms length so the inclusion of a remote control will probably be little used.
The remote has 40 keys all clearly marked but they are also well explained in the 44 page user guide. Just below the viewing screen are two small speakers - you can of course use earbuds should you prefer - and two keys for each of colour and brightness. Surrounding the DVD player are 19 other buttons again all well explained. However in most cases it will just be insert the DVD in the unit, it will autoplay, or maybe you need to press the enter button once you get to the main menu.
The initial battery charge time is five hours but after that half that time is enough to get well over the claimed two hours of battery life, in all cases this was good brightness and contrast and reasonable volume.
The outside has five sockets and the on/off switch all on the right side. These are Phones, Video/Audio out, S-Video, Coaxial and the DC Input.
I have used the unit on my lap, sitting on my chest and even propped on it's side whilst I was lying on my side both in bed and on the sofa. It works fine in all those positions, the base only gets slightly warm - not in any way hot - during a whole film. Should you wish to turn onto your other side rotate it though 180 degrees and carry on watching. If only you could do that with a TV.
The search button allows you to find out exactly where you are in the DVD and should you wish to resume at the point you stopped it can quickly get you to that point this way.
This unit can also play Photo CD's and even Audio CD's. I can see this being able to keep the kids quiet on a long car journey and am somewhat surprised that no car adapter to charge it from the 'Cigar Lighter' is supplied.
My one real gripe - apart from the colour - is that to charge the unit it needs to be switched on, after three minutes of inactivity the unit displays a small floating ALBA logo on a plain grey background but surely being able to charge it while turned off would both save power and enable slightly more rapid recharge.
This is a nice unit apart from it's colour but then I am not a girl. Close to three hours use on batteries means you can probably watch a movie - or maybe just two - and still have some power left for a CD or so.
The price in Argos is £89.99 from page 1432 of their current catalogue or from the link below. Or for a list of Stockists: 0870 873 0078.
http://www.argos.co.uk/static/Product/partNumber/5335316.htm