LeapPad2 Explorer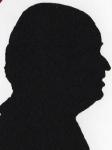 With notebooks and tablets being the in thing from pre teenage years younger siblings will want their own and something like this is ideal even from pre school time. So what exactly does the LeapPad2 have to offer your child?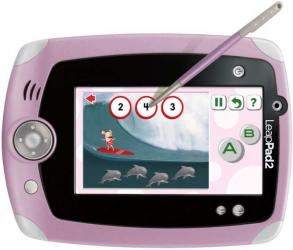 click image to enlarge
It is 17x13x2cm and weights 412grams. The screen is 11x6cm while the layout appears portrait as soon as you switch on its landscape. There are four buttons on the face as well as the ubiquitous five position joystick.
The right side has a stylus tethered on a 30cm piece of cord which may keep it with the unit for a few days, maybe.
The top has a 3.5mm jack for earphones, a cartridge slot (for some extra items not included) and a mini USB port. It is powered by 4x'AA' batteries not supplied. It has two cameras the rear facing one is a higher quality.
As always I test toys and games with the help of parents who have children of the age range suggested. This claims 3-9 years. Pre School loved it, after about 7 little to no interest. So really it is a pre school tool and here it scored well.
You can create your profile from Early Pre School up to 6th. For the pre reading era a picture is a good learning tool. There are lots of apps available beyond what is on the unit. A free app is available for first connection. Your parent or guardian does this for you by connecting your LeapPad to the Internet through their computer.
The same app set for a different age worked differently which should allow the child to develop while they learn.
I counted twenty items provided with my LeapPad 2. A lot of the interaction is done by using the attached stylus and while most is menu driven telling you where to tap the screen a child often does their own thing and sometimes a pleasant surprise happens with things going off in a totally new direction from the planned one.
I assume as my review unit came with batteries installed I was also given extra apps. According to the Quick Start Guide the only ones supplied out of the box are Pet Pad and LeapFrog Learning Songs, at registration Cartoon Creativity and Art Studio are automatically downloaded and you can choose a game, eBook or video as well.
While it does show what is available when extras are supplied I like to be told and not have to find out during the review period, at best I find this misleading and unhelpful as parents will feel they have been misled.
Assuming that the main user will be Pre School it needs to be solid and robust and to stand up to being dropped, this did all those things. The screen was clear and easy to read and while headphones are not supplied most parents will probably prefer to have some as the songs and unit sounds tend to be rather repetitive.
While I have no doubt that twenty years ago a child at the upper end of the age range would still enjoy this certainly the same is not true today, this is partly due to schools using computers at an early age and also due to what they watch on television relying on electrical gadgets and gismos some of which do not even exist in reality.
Doing my searches found the LeapPad 2 at £85.18 with free delivery from the first link below.
http://www.amazon.co.uk/gp/product/B0089RPUJ2?ie=UTF8&tag=gadge0a-21&linkCode=as2&camp=1634