Franklin 12 Language Speaking Global Translator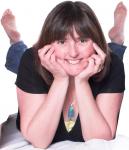 The Franklin 12 Language speaking global translator is a small easy to carry tool for those who want to travel extensively and lightly. It comes with lots of other handy features including calculator, MP3 player, currency converter and address book - so may be the only gadgetry you need to carry with you.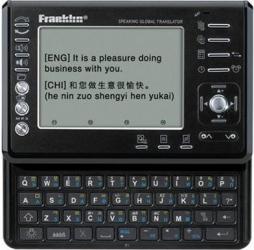 click image to enlarge
This product is ideal if you travel often on business or for leisure but don't have time to learn the language.
The Franklin 12 Language speaking global translator will translate to and from 12 languages in any combination. You choose the Source and Target language from: English, French, German, Italian, Spanish, Portuguese, Dutch, Polish, Russian, Chinese, Japanese and Korean. So not only can you translate from English to French and so on. You could even convert language from Dutch to Korean as another example. Although you might be unlikely to choose two languages you don't understand - this just demonstrates the extent of the language translator.
Once you have set the source and target languages you simply slide up the screen to reveal the keypad and type in the word you want to translate. The screen will show you the translation and a sound button will speak the word to you. If your spelling isn't good it will offer you words near to the spelling you have entered.
The translator also contains common phrases. First select a category such as shopping, dining or emergencies. Then once in the categories click up and down to see the common prhases. The translator will give you the written and spoken versions in your target language.
As with all these tools, they are mostly useful for an emergency or to be able to understand things like menus, signs, etc. It won't help you to have a decent conversation.
Although it's very intuitive to use, I did find that when translating into Japanese and Chinese I would have been hard pushed to either pronounce the written version or copy the spoken version. However, if you need something - you could look up the phrase and get the unit to say it to your Japanese or Chinese counterpart. It could just help you out. This is not a fault of the unit, more a demonstration of how difficult it is to translate into languages with no commonality.
To make it a handy travelling companion Franklin have also added some other functions including an address book, calculator, money converter, games and an MP3 player. Songs can be copied from your PC via a USB cable to the translator. However, it only has 80mbytes of memory - so only enough for about 20 songs. The unit comes with it's own USB cable and headphones. It's small enough to fit into a pocket and with all those functions could come in very handy for the person who wants to travel light.
The Franklin TGA-490 12 Language Translator is available from Amazon for £89.50 on the following link :
http://www.amazon.co.uk/12-Language-Speaking-Global-Translator/dp/B000IYY9JQ