Collins French for beginners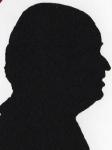 Review controls
My school days were an awful long time ago and almost the only thing I remember about French is that the teacher had the most terrible case of halitosis I have ever come across.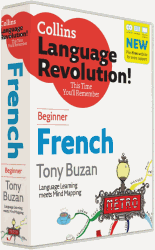 I have quite enjoyed using this French 'Beginners' course, it is certainly my level, it appears easy and yet you are learning.
It consists of a plastic case like an oversized DVD one that has two CD's on the left inside cover and a 212 page paperback book inside the right cover.
My first problem was extracting the CD's from the overprotective central spindles once removed I did not replace them as I feared I would break the CD's so much bending was required to extract them.
Next they can be used on a PC but any CD player works fine as nothing is installed and the CD's have purely audio content. The first CD is designed to use alongside the paperback book and the second on it's own.
However there are advantages for using the first CD anyway on a PC as there are extra activities and other material to help you remember what you have learnt from the CD.
A lot of what the book covers is very basic and if you did even a little bit of a language at school you will probably know it (even if you are sure - like me - that you don't) for instance numbers while these were being said I found myself going on from where the reader left off but don't ask me to go beyond twenty.
The book covers ten very basic scenarios. The Caf , By Taxi to the Hotel, To the Tourist Office, At the Museum, In the Restaurant, Shopping, What Time, At the Market, Solutions and finally Goodbye.
This may not seem much for a book but it is laid out in close to 200 pages with lots of explanations. You might manage to pick up the words alone from the book but not only is it easier using the CD with it but your pronunciation will be a lot better.
Being someone who enjoys food lets go into detail with The Restaurant section. The whole book has a traffic light theme Green for Go, Amber for Caution and Red for Stop.
This is unit five and some of what it covers has been mentioned in units one and three so in part you know some of the answers already. Lots of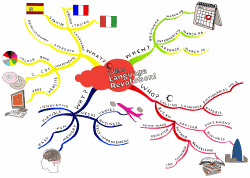 click to enlarge
French words are also in everyday use over here so they don't seem strange at all.
In this unit you ask for a table in the restaurant, read the menu in French, order a meal, increase your food vocabulary and count up to 999.
CD2 in a way helps you revise what you have learnt with CD1 where you had the book to help. This is just the first step to learning a language and a lot is made of a technique called mind mapping.
By the time you have covered this material (revising five times is said to make it stick permanently) you should be able to understand basics and probably make yourself understood. When listening you will probably pick only a few words but you should be able to understand the context.
Doing my Internet searches found the Collins Language Revolution 'Beginner' French should be available for a top price of £19.99, it is likely to be available for somewhat less when the chains pick it up. It is still very new. Spanish and Italian are also available.