Roberts Stream 205 WiFi Internet Radio

Published Nov 25, 2010 Author
petew
Review controls
I'm sitting in my living room listening to 2Day FM - my daughters favourite Austrailian radio station. Welcom to Internet Radio!
Buy Now!
Roberts Stream 205
Internet/DAB/FM radio
£159.95 from John Lewis
including 3 year guarantee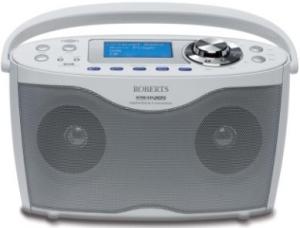 click image to enlarge
Now that's a long way for your average radio signal to reach - unless you're on Long Wave, in which case the audio will be awful. I'm not and it's not. I'm listening to an excellent quality broadcast that could be transmitted from just down the road. I am of course listening across the Internet.
While my daughter discovered 2Day FM by listening using her laptop I have the luxury of listening using a 'real radio'. In this case the Roberts Stream 205. Roberts have added an Internet Tuner to a DAB/FM radio and produced a much more flexible and product.
This is primarily a mains powered product although there is an option to use batteries. This does however require 6xD cells, which means you'd probably use battery power only infrequently. I'm told that a new set of batteries will last between 40 and 80 hours depending on the features used - this is something I haven't verified.
As with all Roberts products a very good manual has been provided, in this case totalling 90 pages (all in English). A good chunk of the manual covers connecting the radio to the Internet. Preferably you'd connect across a WiFi network, although a wired Ethernet connection is provided for those without WiFi or who prefer Homeplug networking. I have a fairly recent cable modem and connection was very straightforward.
One of the issues with Internet Radio is the shear number of stations available. The manual says you can receive over 1,000 UK stations and over 10,000 from around the world. Having lots of stations can be a curse as well as a blessing - especially if you're looking for something in particular. Roberts have put considerable effort into their Interface allowing stations to be 'browsed' by location drilling down by region then country. A text search is provided if you know the name of the station you want.
Roberts connect to a central database of available radio stations - much like an EPG on digital television. While this database contains many popular stations, with more added all the time, it will not necessarily be comprehensive. You can create a personalised version of this database to include additional stations you've discovered. Rather than over-complicate the radio's controls Roberts use a third party web-site : The Radio Portal provided by Frontier Silicon. Create an account linked to your radio (your radio has a globally unique access code), select your channels and away you go. As well as adding new stations you can build/manage your favourite lists. This was very straightforward and the lists appear immediately on the radio.
As well as Internet radio the addition of a home network connection will also allow you to connect to local 'media servers' - usually your computer. If you do this you'll be able to play your MP3 collection on the Roberts - effectively streaming your own media over your own network. For most people you'll be using the media server capabilities built into Windows Media Player - however the manual lists alternatives allowing you to stream must from Apple and Linux machines. Setup with a Windows system is straightforward and took only a few minutes.
For those of us that prefer to eased to sleep or woken gently by our favourite station will be pleased to know that the Stream 205 includes both a sleep timer and an alarm. The sleep timer can be set for between 15 and 120 minutes, enough for even the most committed insomniac to reach Dreamland. There are two separate alarms, each of which can be configured to trigger daily, weekdays, weekends or just once.
To complete the list of features the Stream 205 has an AUX in and a USB socket to allow you to connect flash memory devices for playback. While this is intended for memory sticks you will be able to connect MP3 players that use a file-system/flash-memory interface.
Internet Radio is never going to be as easy to configure as a basic FM radio however Roberts have taken a very sensible approach to simplifying the process as far as possible and then providing a very good manual.
I've had great fun reviewing the Roberts Stream 205. It's good to see that Internet Radio is finally coming of age. As well as the technology now being mature the performance and coverage of broadband Internet now make this a practical option.
The Stream 205 is still very new however I've found it available from John Lewis for £159.95 including a 3 year guarantee. You can find information directly from Roberts on this link.