Averatec 1000 Series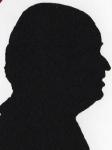 I have seen several excellent small screen notebooks recently and this certainly does not buck the trend. 10.6inch screen but apart from that everything a bigger cousin might have.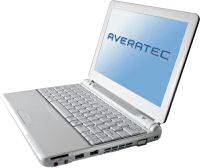 On removing it from the box the first thing you notice is the purple or crimson lid, regular readers will know I am not a fashion guru but I liked it. The keyboard and surrounds are a near white cream colour, perhaps a little bright after a heavy night but other than that quite pleasant.
It is 26.5x20x3cm and weighs a little over 1.5kilos. The screen is 23x14cm giving the 10.6inch display, this is described as WXGA. The actual resolution of this widescreen unit is 1280x768.
I exceeded to battery life claim of four hours in normal usage, albeit by only a few minutes, this included some substantial time on Internet connection and as it was doing the interminable Norton updates and disc scan this was more than satisfactory. I also got more than 165 minutes watching DVD's and all the use was with a good screen brightness/contrast.
Normal shutdown is 13seconds and bootup is 50seconds. The 83key keyboard has full size alpha keys and is certainly typeable. There are two buttons behind the keyboard split by some rather good speakers. The button on the left is a shortcut to media player while the other is the 'on' button. The front right edge has a total of six LED's close together and these are fairly clear as to their use but the PDF manual describes things fully, in fact there are five PDF files to describe the use of almost everything and these are all on the desktop so once you have done the initial boot anything you are unsure of should be easily answerable.
There is a 7.5cm area in front of the keyboard and slightly left of the centre of this area is a 6.5x4.5cm trackpad with the normal mouse buttons in front of it. The right and front edges of the trackpad support up/down and left/right scrolling.
It has a Pentium M processor running at 1.1GHz and this seems to run at 593MHz when on batteries. There is 512MB of RAM with a minimum of 8MB being used for the graphics driver. It has an 80GB hard disc , the actual formatted size is 74.5GB and a little over 4GB of it is taken on delivery.
The left side has a slim DVD/CD-RW drive with a PCMCIA card slot above, to the rear of this side is a drop down door that conceals the 10/100 and modem ports as well as a four pin FireWire port. The rear has only the DC adapter socket. The front has a slider switch to turn wireless communications on/off. This leaves the right side and this has a four in one card slot for SD/MMC/Memory Stick and Memory Stick Pro, so no XD or Compact Flash/Micro Drive support. Below this are the external microphone and headphone sockets. Next two USB2 ports and finally the external monitor port. Not as heavily ported as some but then it weights probably 50% of a larger notebook and there is nothing to stop you attaching a USB hub to give extra connectivity.
In use this was fine, to me this is a notebook to be used on the move it is light and small enough to fit in even a smallish bag yet has full connectivity. You could use it on a desktop and indeed some of my tests were conducted in this way. However true four hour battery life means it is useable without worrying where the nearest 13amp plug is. Finally remember all my tests were conducted with good contrast/brightness levels.
The Averatec 1000 series is £999 including delivery is available from the link below. It is also due to be sold in Staples should you prefer to try before you buy.