A book for PC beginners

Computing for the Older and Wiser, by Adrian Arnold with the sub-title Get Up and Running on Your Home PC will not be of direct value to most GadgetSpeak readers. Nevertheless, I can recommend it to keep the Older and Wiser out of your hair.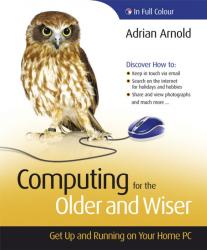 All too often, we are called upon to assist someone who has just bought a machine. While this is not a problem in itself, frequently, the result of answering one or two simple questions can be the thin end of the wedge with the newbie just calling again instead of trying to resolve the problem themselves in the first instance.
This book, on the other hand, would enable the new PC user to grasp the rudiments and so have a much better chance of solving their own problems as they arise and then develop the confidence to start doing things for themselves.
Targeted at the over 50s, it uses plain language and contains a wide range of suitable illustrations covering both XP and Vista. As the author is a Volunteer Tutor with Age Concern he has had experience in dealing with those who have no previous computer experience and, possible, have not even used a typewriter. His step-by-step approach commences with the basics of the desktop, keyboard and mouse to give the new user a firm grasp of basics. He then goes on to Windows and working with disks, drives, folders and files.
As one works one's way through the book, not only are there a number of useful tips, there are also a series of revision Q's & A's at the end of chapters which are useful to help reinforce learning.
Even though, under the heading of advanced word processing he explains the use of Word 2003 or Word from Works Suite 2007, he starts simply by guiding the reader through the use of Wordpad. One short chapter is then devoted to getting help before he goes onto a number of chapters on various aspects of email, the internet and then search engines including, Google, Yahoo and the Open Directory Project. Other web related chapters cover shopping on line and the use of on-line auctions.
Under the heading of Advanced Tutorials, in addition to the "advanced word processing" there is basic digital photo downloading and manipulation as well as a number of useful pieces of information that the user will find of value sooner or later.
Finally, there is an appendix listing a broad range of useful and interesting web sites and glossary of terminology.
Altogether, this is a useful book and, with 360pages, is good value for money.
Computing for the Older and Wiser (ISBN 978-0-470-77099-3), by Adrian Arnold is published by Wiley at a recommended price of £12.99.
If you're buying on-line then Amazon have the book available for £8.44, which includes shipping.