Mono Laser Multifunction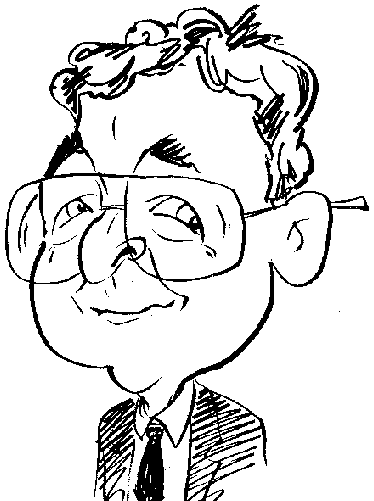 Review controls
When compared to the other Samsung mono laser printers I have reviewed, the SCX-3405W model is substantially larger. The reason for this increase in size, and weight, as my back can confirm, is down to the fact that this particular offering from Samsung is a multifunction device as it combines a mono laser printer with an A4 flatbed scanner.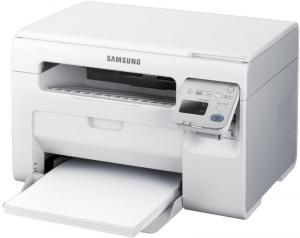 click image to enlarge
Box-shaped and available in a choice of white or grey, the SCX3405W has dimensions of 389 x 274 x 249 (W x D x H) and tips the scales at 6.7kg. Adopting the standard arrangement of the flatbed scanner mounted on top of the printer, this unit makes no attempt to disguise its functionality but you do get rounded corners and ribbed side panels. Both the paper input (150-sheet capacity) and output trays are located on the front of the unit. Extendable flaps for these features do add to the dimensions of the multifunction unit but they do ensure you should have no need to scramble about as documents are ejected from the printer.
Also located on the front of the unit is a control panel. This metallic silver panel can be flipped out at an angle of 45 degrees to make it easier to access the minimal controls and read the small LCD window that will show the current number of copies that have been requested. Buttons are available for Eco mode, WPS connectivity, scan, ID Copy for when you need to copy both sides of an ID card plus Power, Stop and Start. Status and toner LEDs provide relevant feedback indications.
Once you have inserted the supplied toner cartridge, rated at giving you a capacity of 700 sheets with the Starter unit, you can set up this product for use either as a standalone or wireless network unit. The SCX-3405W gives you a choice of Wi-Fi or USB connectivity. The USB port, along with the mains power socket, is located at the rear of the device. For Wi-Fi connectivity you can either use the WPS option or opt to use the supplied wizard on the software CD supplied with the product.
Various software items are to be found on the supplied CD. Some of them, such as the scanner and printer drivers, are compulsory while others are optional when it comes to the installation. These latter items include Easy Print Manager, Scan Assistant and Set Thru which provides tools for scanning and editing images and documents. I would suggest installing these options to check whether they fit in with your style of working and then discard those that do not. There is also an OCR (Optical Character Recognition) feature which can product a more than reasonable accurate editable copy of any text document that you scan.
A raised lip on the right front cornet of the scanner lid makes it easy to raise and lower it while hinges at the back allow you to place books and magazines on the scanning glass. Marks on the rim of the scanner indicate the correct placement of different size documents. You can scan direct to the printer, your computer as a saved file or to your favourite graphics application for further work. The scanner's basic resolution is 600 x 600 dpi which can be extended to 4800 x 4800 dpi. Scanning was so quiet that I something imagined that nothing was happening but resisted the temptation to raise the scanner's lid.
As mentioned earlier, the SCX-3405W has an Eco mode. You can turn on this Green feature from the printer's control panel or from the Print dialogue settings option. With Eco turned on you get a choice of how many pages, up to 16, will be printed on a single side of paper. Not only do you save on paper but toner as well. In Eco mode the print quality appears to be somewhere between draft and normal print quality. It is perfectly reasonable but you might not want to use it for important matters.
Powered by the unit's 433MHz processor backed up by 64MB of memory, this multimedia device is not a slowcoach although Usain Bolt has nothing to worry about. While there is a short delay, especially when opting for the multi-page per sheet option, I was able to achieve the 20ppm promised by Samsung in standard mode with this figure dropping to 19ppm in Eco mode with a 530-word text document. The text was of a high quality. While not being presented at their best, the monochrome equivalents of various colour images were acceptable for inclusion in a newsletter.
While I would tend to go for a colour unit when combining a printer with a scanner, I can see the Samsung SCX-3405W performing a useful function in a small office or home environment. Currently this model is being advertised on the Samsung website with a price set at £149.95. A replacement toner cartridge will set you back in the region of £42.40 but this does give you up to 1500-sheet capacity.
http://www.samsung.com/uk/function/search/espsearchResult?input_keyword=scx-3405w 20cpm mono laser multifunction printer&keywords=scx-3405w 20cpm mono laser multifunction printer