Roberts Stream 202 DAB/FM/Internet Radio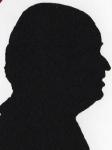 Review controls
This looks like a conventional radio of a few years ago, what would have been called a room portable. The only thing that tells you it is something more is that it has a display rather than a dial. It can be mains or battery operated.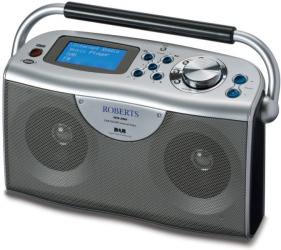 click image to enlarge
The Roberts Stream 202 measures 29x15x10cm and weights (without batteries) 1480grams. It takes six 'D' cells should you want to go that route. Unlike a lot of DAB/Internet offerings this is stereo. There are a pair of 7cm speakers clearly visible through the thin front grey mesh. The sides have a large black stripe and the middle 18cm of the handle is also black everything else is grey.
The slightly tilted top has five blue preset buttons a small silvered mode button two more blue volume + and – buttons and a larger silvered circular (wheel) knob with four more well marked silvered buttons around its left side. Add the 6.5x3.3cm display and the red on/off knob to the displays left and that's the controls.
There are no connections on either side or the base. The top of the back has the five piece 78cm rod aerial. The DC power input near to the battery compartment and above this Ethernet, USB, and Auxiliary inputs and 3.5mm connector for earbuds or headphones.
The display once given power will show Roberts WM202 spread over two large double sized lines for around 15 seconds it will then try to connect to a Wireless network around 30 seconds later will offer four lines of choices. If there is more than one wireless network in the area you will need to scroll down to see all the options. Rescan, Wired and Manual Config are the other options. At this point the unit is still turned off.
You then end up with the same options listed above but the Mode button now works and you can use the other options. FM, DAB, Music Player apart from the Internet either via Ethernet or wireless.
On first use of DAB you will need to do a scan there are two choices (from the menu button) local or full. Both found 53 stations with the full scan taking longer at just over a minute. Twist the wheel knob till the station you want is highlighted and then press the centre of the knob to select that station.
The FM band is easier to tune than a lot of other such units as the large wheel knob can be quickly rotated to move along the band however I have my doubts if the five presets will be enough for real radio buffs. They are very easy to configure once on a station just hold the chosen preset for around three seconds and you get a message saying preset stored. With most FM stations once tuned to a station the frequency changes to the name of the station.
There are five presets available for DAB but with the quick scrolling that is likely to be enough. There are also five presets for Internet and with the huge number of stations available this is certainly not enough. On all types DAB/FM/Internet it remembers the last station you were listening to.
However you can get a reasonably sized list by creating My Favourites. The options when on Internet are My Favourites, Stations, Podcasts, My Added Stations and Help.
When you first start browsing the main points of a search will start with either Country or Genre and then there the world is certainly at your fingertips 24 hours a day.
I used it most of the time 'wired' but after the initial inconvenience of entering a password without a keyboard it works okay 'wireless'. Sound and reception on Internet were generally good. FM was also good but I have heard better DAB, speech was okay but I was not so happy with quality music, yes of course FM is better than DAB as the bandwidth is not compressed but I mean in the tone department. It's okay but I have certainly heard better.
I am afraid I expected better from a company with as good a name as Roberts have.
Doing my Internet searches found the Roberts Stream 202 at a best price of £125.94, including shipping, from the first link below.
http://www.amazon.co.uk/gp/product/B001BS7FOE?ie=UTF8&tag=gadge0a-21&linkCode=as2&camp=1634