Duracell InstantCharger

Published Oct 23, 2009 Author
petew
Review controls
Recharging an array of gadgets while on your travels has always been a problem - Duracell have a solution thanks to USB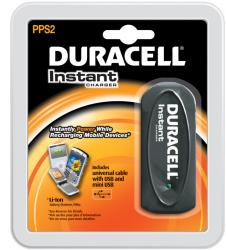 Until very recently most of your gadgets will have required their own personal charger, complete with proprietary connector. Travelling with your mobile phone, camera and MP3 player could easily mean three separate mains chargers eating up your luggage space.
USB (Universal Serial Bus) was developed as an inexpensive common interconnect system for computers allowing devices as disparate as keyboards, DVD drives and GPS navigation systems to share an interface and a connector. While USB has most definitely met this objective it has almost accidently filled another - that of common power source. This because USB provides a low power 5V supply to connected peripherals avoiding the need for additional cables. As it happens many gadget manufacturers see a benefit in connecting to your computer. MP3 players fairly obviously to download music. GPS systems for maps. Cameras to store your images. Phones for just about all those reasons. Most of these gadgets harness the USB power source to charge.
Why do I mention this? Because USB has been harnessed by Duracell to provide a simple inexpensive mobile power source. The Duracell InstantCharge is effectively a light-weight Litium-Ion (Li-Ion) battery. Li-Ion is the same technology used to create high-power laptop batteries and in this case allows Duracell to cram a 5V 1000mAh power source into a package weighting a mere 45g and measuring around 80x40x10mm.
The battery is provided with a single USB cable. One end has a standard USB connector that will slot into your computer, the other end a micro-USB for connection to the battery. The battery itself has a micro-USB socket at one end for charging and a standard female USB socket at the other end. Simply charge the InstantCharger from your computer and then slip it in your pocket when you go out. The populrity of USB means almost all devices come with a USB cable. This allows you to charge almost any device simply by carrying the manufacturers supplied lead with you - simple!
I've used the Duracell InstantCharger successfully with a couple of my own devices: my iPod Touch and a Belkin Skype phone. Both recharged with no problems. Some devices did have problems - notably neither of my Sony Ericsson phone would charge despite being quite happy to charge from the computer - so a little care is needed if you have a specific gadget you just must have on the move.
Despite the small size the Duracell claims to have sufficient capacity to provide 50 hours of use for an iPod Classic and up to 180 minutes talk-time on a Blackberry Curve. The simplicity of the Duracell InstantCharge and the single required cable make this product an ideal companion for those on the move that may not be in one place for long enought to charge their gadgets the traditional way!
The Duracell Instant Charger is quite new so I couldn't find it available from many suppliers. The price from one of Amazon's partners is £23.38 including delivery.