A Wireless 2.1 Speaker System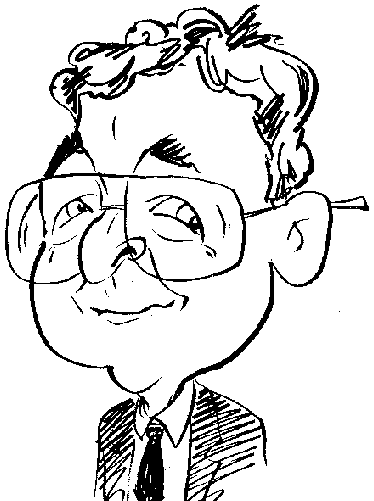 Review controls
As part of its Signature Series, Creative has developed its T4 Wireless product.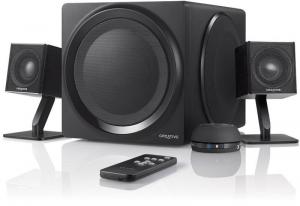 click image to enlarge
Arriving in a fairly substantial box, the T4 Wireless kit consists of the subwoofer and two small satellite speakers mounted on their own permanently attached stands. You also get a mains power lead for two and three-pin sockets, a wired control pod, infrared control unit and a RCA to 3.5mm stereo cable plus various safety and setup documentation. Unpacking the kit proved to be a far easier tasks that the actual setting up of the product but more on this a little later.
Central to this system is a rather solid looking subwoofer, with dimensions of 210 x 277 x 204mm (W x D x H), decked out entirely in black with side and front mounted SLAM (Symmetrical Loaded Acoustic Module) meshed-covered outlets for supplying a promised "deep tight bass" sound. Located on the rear of the subwoofer is an inset panel containing the various connection input and output options plus a volume knob. There are socket for inputting power, delivering audio content from a non-Bluetooth device via AUX and the supplied wired control pod plus two sockets for attaching the two satellite speakers.
It was the satellite speakers that were responsible for the initial problems I encountered when setting up this wireless speaker system. The problem was not with the speakers themselves but the connection sockets on the subwoofer. For some reason these sockets, into which you needed to insert the connection plugs, each had a raised collar around the socket. It requires a fair degree of pressure in order to ensure each connection was seated correctly otherwise the speakers would just hang off the system and provide no audio output. This problem occurred with two different subwoofer units so it was not just a one-off problem. All the other connections, by comparison, were trouble-free when it came to make a connection.
As mentioned earlier, the T4 speaker system offers two methods of remote control, one via an infrared, line-of-sight approach and the other a wired connection to a 15-pin socket. The infrared unit has buttons to switch between AUX, Digital and Bluetooth sources, stop/play, cycle backwards and forwards through tracks, adjust the volume level and turn the power on/off. Circular in shape, the wired remote control pod, like its namesake, has a volume level adjustment wheel plus buttons for power, source and Bluetooth. There are also 3.5mm jack sockets for attaching a headset and an AUX non-Bluetooth music device.
You can also connect a non-Bluetooth device via an AUX connection on the subwoofer. In this case you will need to use the supplied RAC to 3.5mm stereo cable. It is possible to have two different devices connected via the available AUX options simultaneously provide audio content. I am not sure why you would want to do this but it is possible.
While you may have two AUX connection options, most users will probably opt for using Bluetooth. Setting up a Bluetooth link is straightforward once the process has been activated via the wired control pod. As with AUX, you can have two Bluetooth connections set up so that you can quickly switch between the two streams. As part of its Bluetooth support, the T4 speaker system has NFC (Near Field Communication) technology. I found this feature to be a little hit or miss in that sometimes it worked but not every time. Although the NFC feature was meant to work by waking up the speaker system when it was turned off, my successes were restricted to when the system was already turned on enabling a link to be set up between my music playing mobile and the T4 system.
When setting up this speaker system you do have the benefit of some generous leads. The shortest lead is the mains power cable at 150cm for linking the subwoofer to a power source. Each satellite speaker has its own permanently attached 200cm lead which gives an ample spread for stereo delivery without running the risk of feedback to the subwoofer. A similar length of lead is provided for the RCA to stereo cable while the Pod controller lead is slightly shorter at 195cm with the infrared controller for more long-range action.
Although this 2.1 speaker system would hardly rank highly in stylish stakes, it does provide a reasonable audio output especially when you consider the size of the raised satellite speakers (74 x 74 x 78mm). This speaker system could help enhance the audio output from various sources including your television and gaming device as it makes use of its Creative SLAM technology, audiophile grade drivers and high definition codecs. Creative has placed a price tag of £249.99 on this product.