Laptop Protection Choices from STM and Techair

Having spent good money on a new laptop, it is only sensible to look after it. One of the first things to do is to choose a suitable laptop bag that will protect it from knocks and other damage as well as ensuring that the necessary cables and power brick are all in one place. STM and Techair are two of the manufacturers producing ranges of bags to fit the different machine sizes and to meet a wide variety of needs. The shoulder (messenger) bags that I've looked at from each vendor address a different need.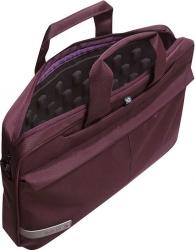 click image to enlarge
The actual ones I have reviewed are the STM Nomad Medium for 15inch MacBook and the Techair Classic 3205 for 15.4inch PC laptops. The former is 43 x 34 x 14 cm and the latter 42 x 29 x 5cm. Hence, as well as being slightly smaller it is much thinner. They both have convenient carrying handles but, in the case of the latter, the shoulder strap can be removed and it also has a trolley strap and an external rear open pocket for a newspaper etc.
Both bags have a padded compartment to provide physical protection for the laptop. While it is an integral part of Techair's Classic range, it is removable "sleeve" in STM's Nomad range. When out of the Nomad, the sleeve has handles so that it can be carried either horizontally or vertically as well as under-arm.
Both cases are designed to be able to carry those essential additional items such as the mains lead, power brick and, possibly, a mouse. In fact, the Nomad can carry an appreciable amount of extras as it is deeper and there are a number of additional pockets including a special one for an iPad so that, in the limit, it could even be used as an airline carry-on bag. However, as there was no zip on the main accessory compartment even though there are a number of small zipped pockets, I felt that it was possible for items to fall out and get lost if the bag was placed carelessly in an airplane overhead locker.
On the other hand, the Classic is designed just to accommodate the laptop in its main compartment and then the power brick, mains cable plus a small amount of other items such as a

click image to enlarge mouse are stowed inside the front zipped compartment. In this case, once could be confident that nothing could fall out. Some people might find it a limitation that it would not have room for all the other essentials that must be carried.
The two bags are targeted at different life styles and are both good examples of their respective types. They are well made and should provide years of good service. As the list price of the Nomad Medium is £99.95 it can be seen that STM is targeting it at those who also consider style to be important unlike the Classic, which has a list price of £34.99. However, they will both probably be available at more competitive prices -- especially on Amazon.