HannsNote SN10E1 Netbook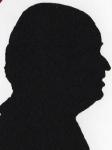 Review controls
This is a Netbook from a company who normally – as far as I know – make monitors and panels. However on closer examination I find it is manufactured by MSI for them but HannsNote from Hannspree sounds rather nice
Buy Now!
HannsNote SN10E1 Netbook
In black £245.73
incl. delivery
In White £245.73
incl. delivery


plus

£40 cash back
'til 31/12/2009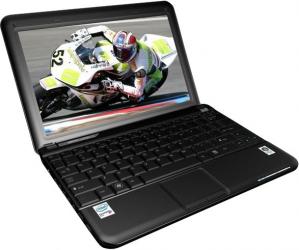 The HannsNote SN10E1 Netbook measures 26x18x4cm and weights a tad under 1.3kilos. My unit was white (probably called cream) and while I normally prefer black this was fine. It comes with a slipcase and to my unstylish eye it looks smart. A nice feature it has a recovery DVD should the worst happen and your hard drive crash.
The left side has two USB ports, the DC input and the Kensington lock port. The right side has another USB port, an SD card slot, audio ports for headset and microphone, VGA out and an Ethernet port. Both the front and back are clear, the latter as a couple of centimetres of screen surround disappears there, the former as it narrows to .5cm there. The centre of the top of the screen surround has a 1.3MP web cam.
The screen is 22x13cm giving the 10inch diagonal measurement. There is an 83key keyboard with the alpha and numeric keys being fullsize. There is a 2.5cm area behind the keyboard that has only the power on button complete with blue LED. The area in front of the keyboard 5.7cm has the 5.5cm wide trackpad mounted 7.5cm from the left and 11.5cm from the right. Along the right front edge is a battery of eight pin hole LED's.
It runs Windows XP, a copy of Acrobat 9 Reader and also has the almost obligatory trial of Norton Internet Security. Apart from a couple of required utilities that was all apart from .PDF manual that would be useful to a novice user.
The processor is the Intel Atom 1.6GHz processor with 1GB of RAM. The hard drive is 145GB split 39GB for 'C' and 106GB for 'D'. As most programs still prefer to be installed on the 'C' drive this seems a strange allocation.
The startup time was a rather nice 35seconds and shutdown was 13seconds, both these figures were without Norton. However you really should have at least some anti virus software installed. With Norton installed the figures were shutdown 13second but startup was a massive 70seconds.
The battery life (with Bluetooth and Wireless off) using it in what I consider 'light' mode where you are only doing things like word processing and perhaps playing a few games of Solitaire or Freecell was close to six hours a very acceptable figure. This means the screen was kept active the whole time. The actual figure I got was five hours and thirty four minutes with 4% battery remaining but at that point I gave in to its continual pleading to be reconnected to mains power.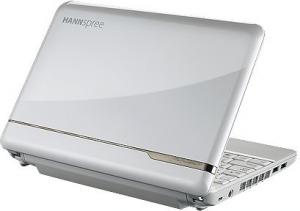 Unlike some notebooks and Netbooks the battery settings were not far different from those on mains power and you certainly should not damage your eyesight with low contrast and brightness with the HannsNote default settings.
The screen is 1024x600 and while this is not entirely universal with Netbooks most have this resolution. While not all manufacturers provide the limited use trial of Microsoft Office I think some word processor and spreadsheet package should have been supplied. You could always download the Free Open Office package.
The lack of an optical drive seems less important nowadays as most products can be downloaded and those that can't can probably be transferred to USB stick or SD card and then installed that way.
For a Netbook this is not all that light – something that is important if you are carrying it around allday – but that is probably partly due to the battery that does tilt the keyboard making it easier for you to touch type on.
Doing my Internet searches found the HannsNote SN10E1 at a best price of £239.99 (in black) or £249.99 (in white) from the links below. NOTE: The white version currently has a £40 cash back bringing the price down to £199.99 including VAT. Valid until the 31st December 2009.
Black : http://www.misco.co.uk/applications/SearchTools/item-details.asp?EdpNo=374067
White : http://www.misco.co.uk/applications/SearchTools/item-details.asp?EdpNo=374068
Here's the link to the Hanspree site with details of the product.

http://www.hannspree.com/global/product_detail.aspx?id=27174&c=26343