Acer Gemstone blue Launch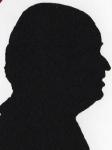 For reasons best known to Acer they launched these new notebooks on Maundy Thursday in the UK when I am told the same presentation was done seven days ago in New York.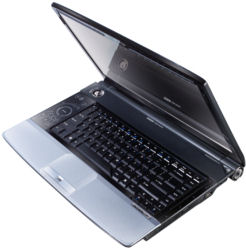 click to enlarge
A total of eight new notebooks aimed at the home market and for the first timer from Acer there are fingerprint readers on consumer products.
Two entirely new screen sizes 16inch and 18.4inch, these are so the 16:10 ratio on earlier offerings can be changed to suit the current DVD's and TV that want 16:9. All have variety of NVIDIA graphics cards with 512MB of RAM plus extra shared RAM.
The prices are expected to range from £699 to £1399. I noted what I could from a very busy PowerPoint presentation. Just as well I did as the slides were not on the CD so I can only quote the main points.
Most of the new offerings come with Blu-Ray drives and some come with two hard discs. The 18.4inch offerings come with five speakers and sub woofers and while the 16inch also have simulated surround sound. Output from headphones will be simulated surround sound in both panel sizes. I look forward to reviewing the Dolby software built into the motherboard to give true surround sound from the five speakers when I manage to get to review one of the 18.4inch offerings.
Other enhanced features over the models they replace include 250-nit brightness (up from 200-nit) and colour gambit of 60% (up from 45%) for the 16.4inch models.
On the software side there is the Media Console featuring Acer Arcade Plus giving rapid control over both sound and video. All come with Vista, some with Ultimate the rest with Home Premium. Other software is supplied including a variety of trials.
So there are four models with the 16inch panel (6920 series) and all but the cheapest - likely price just under £700 - have a Blu-Ray drive the cheapest has a 8x DVD-Super Multi double layer drive. The next - around £900 - has a Blu-Ray drive both these models have resolution of WXGA 1366x768. The next model - around £1000 - has a Blu-Ray drive and TV tuner as well as WXGA resolution.
Now finally for the 16inch models the top of the range - around £1150 - has a Blu-Ray drive and WUXGA resolution that is a superb 1920x1080. All the 16inch models come with 2GB of RAM (upgradeable to 4GB)and the hard discs should be 120-160-250 and 320GB, I assume they are in the increments I have listed but I am not sure.
All the models feature 80% charge within an hour, full charge in two hours (system off) and three hours full charge system on and they weight around 3.5KG 6920 and 4.1KG for the 8920 series.
Now for the 18.4inch products (8920 series) - again there are four models all have five speakers and a sub woofer (can't wait to see how good the Dolby motherboard implementation is). All the 18.4inch models have 90% colour gamut and brightness of 300-nit. All the models in the 18.4inch range have WUXGA resolution 1920x1080 and a Blu-Ray drive stated to be 2x (the 16.4 version was a 1x drive)
The first model is around £900, now here the specifications say 2GB of memory but my memory says 4GB was mentioned for the 18.4inch models. As I am writing this after everyone else has broken for Easter I can't check.
The next model - around £1100 - and a larger hard drive again can't be sure of the size as either it was mentioned or I did not copy it down.
The third model is - around £1250 - and has two 250GB hard drives. Finally the top of the range offering - close to £1400 - has two 320GB hard drives.
You will notice I have not mentioned the processors. These are Intel's latest mobile Penryn processor (offering 947 new instructions) but the information I have does not make clear which processor goes in which system, all the systems support up to 6MB of level 2 cache. Availability should be in around a month, review to follow ASAP. More info should be available soon at www.acer.co.uk