Samsung 3D Blu-ray Player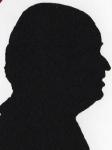 A basic Blu-ray player did just that and played Blu-ray and DVDs and possibly also CDs. Now this offering from Samsung can update any TV that has an HDMI port to connect to the Internet and also connect to iPlayer and ITV Player etc.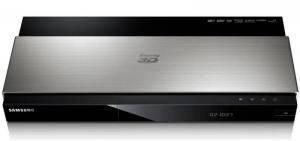 click image to enlarge
The Samsung BD-F7500 blu-ray player measures 31x21x4cm. It is described as a Ultra viewing unit with 4K upscaling. Don't be put off by that if like 99.9% of the country you only have a TV capable of 1920x1080 it works fine and even the 3D works (three display choices).
I note that some other units do not support all of iPlayer, ITV Player, 4OD and Demand 5 but this product does.
My own TV has the ability to connect via Ethernet but where it is means a very long cable. However with this Samsung unit I now have Wi-Fi so I can search the WWW as well as use catch up TV through my older TV.
The Samsung unit comes with two remotes, the first for all the normal Blu-ray options and the second for easy typing and a pointer to make selections on screen. There is of course a lot of overlap between the two. It would have been nice to have one to do everything.
The link to the Samsung site (second link) says 'makes your TV Smarter' and it does for all those of us with older TV's.
The Blu-ray unit has a dual core processor built in to interpret and smooth the output to your screen.
For those who use other services such as Netflix, Blinkbox and Love Film these are available through this Blu-ray unit.
Other online services such as You Tube, Facebook, Vimeo and Twitter are also just a touch of a button away so give your Smartphone a rest.
The Graphical User Interface is simple and easy to use once you have worked out which button does what on the remote control(s).
Some might wonder why the unit has two HDMI out sockets on the back, the answer is that for those with 4K
And their AV does not support 3D you can send video direct to the TV and sound to the AV.
For those with both 5.1 and 7.1 output both are supported.
This unit can also stream Movies, Music and Photos from a PC which is something that can be done with most recent TV's but not from older ones. A USB stick can have most video and audio standard files on it and the Blu-ray just plays them.
For those permanently attached to their Smartphones AllShare Cast allows the output to be shown on the TV screen. One problem I found is that the Smart Hub button on the remote takes you to Apps but this is a minor glitch that I am sure Samsung will correct internally.
I liked the unit and as stated if you have an older TV this updates it at far less money than a new TV.
The Samsung BD-F7500 Blu-ray player is available from the first link below for £176.99 with free delivery.
http://www.amazon.co.uk/gp/product/B00BYWF828?ie=UTF8&tag=gadge0a-21&linkCode=as2&camp=1634
http://www.samsung.com/uk/consumer/tv-audio-video/blu-ray-players/blu-ray-players/BD-F7500/XU