Samsung Microwave ME711K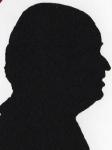 A quality microwave that is available from AO.COM at an amazing price. This is not the latest and greatest that seems to be able to everything but the washing up. However it is a very competent offering at a price only normally found with the entry level models.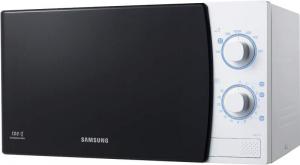 click image to enlarge
In a previous life I was a chef so I know my way round a kitchen and to be honest my own microwave is at least 35years old and normally gets used for defrosting and reheating, it does not even have a revolving turntable.
So for three weeks I decided to forsake my over and hob and live using the microwave. A lot of small flats do not have a proper kitchen and just a microwave and possibly a toaster and kettle so while it's hardly living rough for someone who loves cooking it's a change of lifestyle.
A minor point maybe but as someone who constantly unpacks and repacks items this is simple, a moulded piece of polystylyne below and the same above. Lift out the Microwave remove three pieces of tape and plug it in, the glass dish is in a recess on top of the packaging place it in the oven and once you have removed the Owners Instructions A5 booklet from the oven and read the five pages that matter you are ready to go.
As with any such device you need some space at the sides and back for ventilation. It is 49x28x34cm and weights 11.5 kilos. Once the 38x26cm door is opened the oven measurements are 33x21x31cm with the turntable glass dish being 25.5cm across. The oven volume is stated as 20litres.
To the right of the door which is hinged on the left are two circular knobs one above the other and below these is a bar button to open the door.
The top knob is power with 100w being the lowest and 800w the highest. The second knob is time graduated from 1 to 35 minutes.
Two big changes for me in that my microwave has a twist switch defrost/high the latter being around 600w and when you open the door to turn/baste you have to press the start button again to continue cooking here once you shut the door it continues automatically.
So not everything wants to be 'nuked' on the highest setting and this was a learning curve for me, the booklet gives some reheat times and what can and cannot be used in the oven. However for those you use ready meals most suggest a temperature and time so you get the idea fairly quickly.
For cooking fresh it is more trial and error, greens need very little, root vegetables need longer and I found a glass bowl with water and a lid ideal but just like cooking on a hob turn the heat down once simmering. The idea of boiling potatoes in a microwave seemed strange to me but it worked I guessed 15 minutes and the potatoes were perfectly cooked along with an onion and no onion smell around the home.
So you are wondering how my test went, I survived but on occasions I did resort to ready meals something my diet does not normally have included.
Things I missed was cooking a joint of meat although I did do chops and even a steak and while things like a browning disk are purchasable its different.
The market for this as a main method of cooking would be a single person or couple with limited space but for a backup device then my old microwave may have had its day and something like this could take its place.
The Samsung ME711K is available from the link below for £69 with free next day delivery.
http://ao.com/product/ME711K-Samsung-Microwave-White-34799.aspx