So G-Stream from Dane-Elec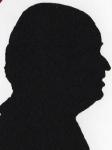 Review controls
A device to allow you to view your, movies, photos and music on your TV. Hands up those who thought I was going to say PC rather than TV. You connect a device (hard disc or memory stick) to this and then view / listen on your TV.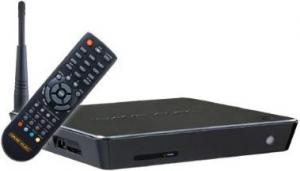 It is 19x19x3cm without cables that all fit into the back of the unit. Also in the box are a remote control and a composite cable as well as a power lead and instruction booklet.
The front of the unit has two LED's a small one to let you know power is received and a second larger one when the unit is switched on. The on/off button is on top of the unit near the appropriate LED. The right side and base are clear of controls.
The left side has a card slot for SD and MS as well as a USB port that you can connect a portable hard disc or USB stick to.
The rear has the connectors for the composite leads (provided) as well as the DC power input, HDMI output (lead not supplied) optical, Ethernet another USB port and Wi-Fi link.
I approached this with some trepidation as the first such device (different manufacturer) I attempted to review was un-reviewable. I reported the problem to that manufacturer who said it must be faulty asked for it back and then emailed me to say it would not be replaced. As I have yet to see other reviews for that product from anyone I assume they discontinued it.
I used both the Composite cables and HDMI to connect to three different TV's all worked as they should but I consider the HDMI easiest to use simply because the cable will only fit one way so it must be correct and with the Composite all the holes are the same size so it is easy to attach the cables incorrectly especially as most people cannot see behind their TV's and do it all by feel or even by using a mirror. Another bonus most recent TV's have an HDMI socket on the side for easy attachment of devices.
Once connected attach power to the SO G-Stream and wait until it warms up (few seconds) then it should enter its menu system and once you have selected your type of media (pictures, video or music) then select what you want and it will play.
I had no problem with JPG images but would suggest you take care with what you place on the media so getting all of a theme together makes for far better viewing. It is possible to get a screen show complete with transitions.
Also the MP3 files I gave it performed well and the same advice as above about files of a similar type unless you like soothing music and heavy metal mixed together each has its place but not necessarily one after another.
The videos were not all good news, I managed to play samples of .AVI, MOV and MPEG4 (it does also support other formats) but it also failed to play some other .AVI, MOV and MPEG4 files just giving 'wrong format' messages.
The fact that some of these files were taken on the same cameras as files it would play seemed to me rather strange. On two occasions I raised this matter with Dane-Elec and as yet no one has got back to me with either reasons or answers why this might be the case. I could understand if the size of the files or the dimension of the images were the problems but as yet neither theory has been advanced to me.
Being able to use it as a media streamer (remember Ethernet and Wireless are also possible) sounds nice but until all files of all the supported media types just play I can see that this might be a disappointment for home viewing.
Doing my Internet searches found Dane-Elec So G-Stream at best price of £91.95 from the first link below.
http://www.amazon.co.uk/gp/product/B002CGRSSM?ie=UTF8&tag=gadge0a-21&linkCode=as2&camp=1634