Candy Floss Maker for the Home by Giles & Posner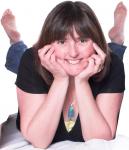 If you want something a little different for party food and fun - have a look at the Giles & Posner table top Candy Floss machine.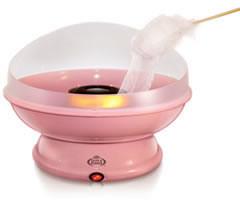 It's party time of year, and Giles & Posner have brought us the Cotton Candy Candy Floss Maker Candy Floss Maker. It's a neat little counter top unit in baby pink colour. This Candy Floss Maker is designed for at home parties - where a few guests can have fun twirling their own sticks as melting sugar is spun around. It's not designed for mass use - such as the one we use at the school fete. It is however, very easy to use, assemble and to clean afterwards. Although you do need to clean quickly as sugar is very sticky stuff.
To use all you need to do is heat up for 3 minutes. Then turn the unit off. Using the scoop provided put a level measure of sugar into the centre of the machine and turn on again. Almost immediately the sugar is warmed and produces light fluffy candy floss. There's an art to collecting it on the stick, by twizzling round and round, but it's fairly easy to master. As it's a small unit the amount of candy floss per scoop is also small, but for home parties it's great fun. Kids in particular would love it. The element in the centre does get hot, so small hands should be supervised.
The Giles & Posner Candy Floss Maker is one of the Art in Party Range which also includes various Table Chocolate Fountains.
You can purchase the Giles & Posner Candy Floss machine from Amazon for £29.95.
http://www.amazon.co.uk/gp/product/B00198AKSY?ie=UTF8&tag=gadge0a-21&linkCode=as2
To make a party even more fun - here's also a range of chocolate fountain machines.
http://www.amazon.co.uk/gp/search?field-keywords=Giles%20&%20Posner%20fountain&url=search-alias=kitchen