Kenwood Response Toaster TT720 - Three Toasters in One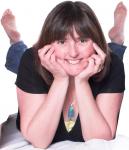 A neat and compact toaster that warms croissants and has single and both side toasting functions.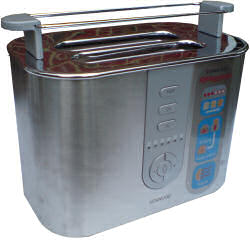 Here at Gadgetspeak we've kitchen-tested the Kenwood Response toaster - which has worked hard for its money. It has three functions: normal toasting, single sided toasting and warming. The three functions are controlled from buttons on the front of the toaster, with additional buttons for raising and lowering the toasting rack, and buttons for adjusting the toasting time. Six indicating lights show the progress through the toasting process and an 8 second beep warns you of when your toast should be ready. The rack has a smooth raising and lowering mechanism, so there isn't that familiar 'clunk' when you toast is finished. Oh, and there's also a defrosting button.
The toaster works as you would expect and produces nice evenly toasted bread. When lowered into the toaster, the carriage clamps the toast into place, so it doesn't lean nearer one element than the other - this gives the even toasting result. What I absolutely love is the 'keep my bread warm' idea. If you don't get to your toast quickly, the rack lowers and keeps your toast warm, but not further toasted, by switching the elements on and off. I can't count the number of times my toast has gone cold when the kids have nabbed me for some reason.

Single side toasting is a new one on me. This is particularly useful for things like bagels or hot-cross buns, where you only want to toast the side you butter. First of all cut the bagel/bun, placing the cut side to face the centre, choose the single side toasting function and press go. Another surprise here - as not only does it toast one side, but the bagel also ends up warmed through to the other non-toasted side.
I was a bit dubious about the croissant warming at first. Croissants are put on a little rack above the toaster and the warming button selected. You do need to remember to turn the croissant over half way through. Much to my surpise this does work and produces croissants which are warmed through without going either crusty or soggy. And better than waiting for a whole oven to heat up just to warm croissants through. The rack for the warming function is a little bit of a nuisance when you are using the toaster - as it really has to come off when toasting
I'ts a lovely looking toaster. Like most kitchen appliances these days it comes in brushed metal to suit fashionable tastes.
My only real gripe is size! It's a compact unit at 17cm deep, 28cm wide and 19.5cm high. In practical terms this means 2 slices of toast, or one bagel, or two croissants. That's great for a single person or a couple, for a family of 4 it's a bit of a challenge! So much like the Branbantia Sensor Bin I reviewed recently, I only wish this came in different sizes.
You can get this toaster at Amazon for £29.99
http://www.amazon.co.uk/gp/product/B000G3JTUS

And there's a matching kettle too for £34.99!