Would you like a nice cup of tea?

Published Mar 21, 2007 Author
petew
Review controls
Living in a hard-water area and being a tea drinker has not always been a good combination, unless you like a filmy layer on top of your cupper! Filtering your water is of course the solution, and here we review a new quick filter system in a Russell Hobbs kettle.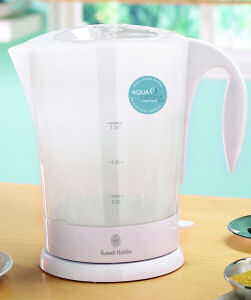 Of course lime-scale isn't the only impurity in your average tap-water, and in fact is probably one of the least unpleasant substances you'll find there. Other contaminants can include pesticides, chlorine and heavy metals like lead and aluminium. You can see the lime scale when you boil the water, the others - well, they are invisible. And you thought that cool refreshing glass of water that we're told we should be drinking more of is good for you?
Well, the water is of course good for you - but it might be a good idea to remove the other unwelcome elements first! That's where you could use a good filter. These things have been around for a good while now in various forms, until recently mainly as free-standing jugs with an upper chamber containing a water filter. Although great, they did tend to waste some time. We've had one here for a few years, but the time it takes to make a cup of tea is considerable: Fill the water jug with water; go sit down and water for the water to trickle through; forget about the jug; realise you really did want a cup of tea; fill the kettle and turn on; wander off while the kettle boils; finally remember you were making tea; have to boil the water again; result - cup of tea some 30 minutes after you started (that might just be me and my short attention span!)
Over the last couple of years the process has been simplified with combined filter/kettles - and so the process at least is simpler and you get your tea quicker!
Aqua Optima Filters
Aqua Optima have released a new filter system and partnered with a number of kettle manufacturers to have them use the system in their products. We've been using a Russell Hobbs "Purity Filter Kettle" to try it out, but there are other products from Kenwood, Morphy Richards, Sabichi that also use the same system and the same filters. Aqua make two main claims about the filter system :
95% of lead and up to 80% of chlorine that can be found in tap water can be removed. In addition, by reducing lime scale by up to 70%
It will filter the water quickly!
While we're not in a position to measure how many things are removed from the water, we could at least do a simple, if unscientific test on speed.
We timed how long it took to filter one pint of water through the Russell Hobbs, and another pint through the existing office water filter jug. Both had filters about half way through their life. The Aqua filtered the water in almost exactly 60 seconds, the jug filter 90 seconds.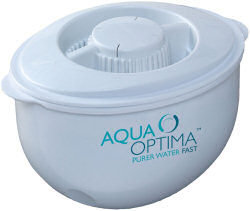 The qualitative test is of course in the drinking and so we felt bound to try very many cups of tea in the course of this review. Each cup was clear of the tell-tale signs of lime-scale and tasted just fine.
According to Aqua Optima, each filter should last around 30 depending on the type of water in your area. In our sample the filter lasted a little less than 30 days, but then we've found this with other filters - the water around here is particularly hard.
Russell Hobbs Purity kettle
The Russell Hobbs kettle itself we like. It is a plain white translucent plastic cordless jug kettle which we prefer to some of the garish designs available today. It should sit well in any kitchen. It holds up to 1.5 litres of water, with a minimum mark of 0.5 litres (about enough for two cups of your preferred hot beverage). The kettle has an interesting lighting effect. Inside the kettle there are two coloured lights. - red and blue. According to the label the kettle "illuminates blue when cold" and "illuminates red when hot" - this isn't strictly speaking true. It is red when you've turned it on and blue when off - so as soon as the water boiled you're back to blue despite having a kettle full of boiling water.
I was somewhat dubious of the colour effect initially. It looked fairly week. However in the evening, in dim light it actually looks fairly spectacular. Not particularly necessary for making a cup of tea I know. It does however mean you should avoid that frustrating situation where you turn the kettle on, walk away for 5 minutes only to return to a cold kettle - the mains was turned off!
The only thing that other products have that are missing as a gimmicky 'filter timer' - usually a little LCD display that ticks down until the filter should be replaced. Personally I applaud this omission. How long a filter has been in use is seldom a measure of how effective it is. The life time of the filter will depend on the quality of your local water. If it's not too bad, a timer will have you discarding a perfectly satisfactory filter, while in other areas you'll be down to degraded water long before the timer reminds you to change. In a hard water area the best test is to replace the filter when the scum starts to appear on top of the cup.

Filters are available from the Aqua Optima web site priced at £11.99, £21.99 or £29.99 for a pack of 3, 6 or 12 respectively. Searching the Internet we found other stockists, but none cheaper than that.
The kettle itself we've only found available from one stockist at the moment, Robert Dyas, so you may want to search yourself. RRP is £29.99, but the previous link currently has a £5 discount.