More Backpacks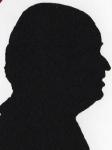 These are slightly different, they are 100% waterproof, no not just for the British weather but for those who go out 'on the water' and therefore run the risk of going 'Overboard' here a carbon backpack and a waist pack.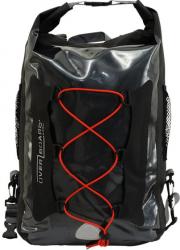 click image to enlarge
100% Waterproof Carbon Backpack
This is really very different from the standard rucksack/backpack reviewed yesterday. It is stated to be a 25litre pack. It looks like a large sack with straps on the back. The material is obviously waterproof and feels like a cross between rubber and plastic.
When open it is 68cm tall and 43cm wide. The stated sealed size is 49.5x34x16.5cm. When you see it open the straps look far to low but this is a roll top unit and when packed correctly the back straps come all but at the top with only carry handles above.
I see reading the instructions that it is welded (not stitched) and made of TPU. It is designed to be closed either from the top or side and will float it dropped in water.
Of course the sealed environment means it not only protects the contents from water but also from dust, sand and dirt as well.
When not being dunked in water and worn on the back the padded (up to 7cm wide) straps are also supplemented by a pair of lumber supports on the rear of the product to keep it perfectly seated on the back of the wearer.
There are a pair of 9.5x15cm web pockets on either side for maps etc but of course these are not waterproof as they are on the outside. There is also a 23cm wide area on the outside with a pull string that could contain something like a rolled sleeping bag; however this would affect the buoyancy if used like this over water.
Inside there is a single 18cm wide and 24cm deep zipped pocket. Finally it has a highly reflective back, this initially looks unlikely as it grey and black but I tried it at night (sorry not in water) and it certainly reflects light.
The 100% Waterproof Carbon Backpack is available from www.over-board.com at £59.99 Spend over £60 and you get free delivery. The site (link below) has a range of images and even a video demo of how to seal it correctly. In certain circumstance this could even save your life.
http://www.over-board.co.uk/catalog/product_info.php?cPath=30_48&products_id=85
It's also available from Amazon for £43.33 including shipping from Amazon on the following link:
http://www.amazon.co.uk/gp/product/B001FOQT5U?ie=UTF8&tag=gadge0a-21&linkCode=as2&camp=1634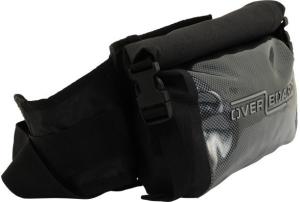 click image to enlarge
100% Waterproof Waist Pack
I was also sent what is described as a waist pack.
When open this is 23cm wide and 29cm deep. However the stated sealed size is 19x7.5x13cmand has a 3 litre capacity. I have a 40inch waist and fully extended it just about fitted me but people larger than me should check with Over Board to see if they do a larger size.
You are instructed to roll the top four times to make watertight and the clips will only close correctly when you have done this. It is also coated with the same highly reflective coating as the backpack above.
So this is ideal for passports, money, sat nav, iPod and medication etc. With the ever expanding waist lines I was surprised that it only just fitted me at full expansion perhaps another six inches of overall strap length should be incorporated, of course they may already make larger sizes.
The 100% Waterproof Waist Pack is available from www.over-board.com at £29.99.
http://www.over-board.co.uk/catalog/product_info.php?cPath=30_46&products_id=84