Cross Pen/Stylus and Eneloop Battery Charger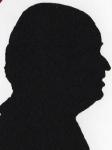 Two items that would make ideal gifts that would get used there's a battery charger to charge Ni-MH 'AA' or 'AAA' batteries, both things almost everyone uses and not just live in a cupboard. Second a pen – and more - from a well-respected company, second .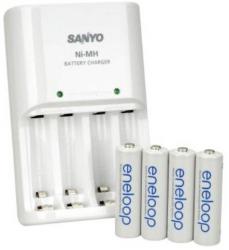 click image to enlarge
Eneloop Battery Charger and 'AA' Batteries
This charger can also charge the smaller 'AAA' batteries as well as 'AA' ones.
As sent to me it was the charger fitted with four 'AA' batteries.
Unlike the design of some other units it externally looks like it is made solely for 'AA' use but remove the supplied batteries and 'AAA' one will fit lower at the front and sit into the same chamber at the back.
It is 12x7x6.5cm but 1.5cm of the first figure the length and around 1cm of the width is the overhang of the fitted 13amp plug.
My unit was white. The batteries supplied are 1900mAh but in tests they lasted better than other such units. So even though I have had them for around three months running them down in normal use takes time.
The charger displays blue LEDs through the units skin which take around two hours to recharge.
The unit has a 100% charge detection and has control over separate cells. It stops overcharging occurring. If you need batteries quickly then the two end cells can do a 'Quick' charge. The output in this case is 1120mA whereas if you are charging 'AAA' 560mA is the output.
The unit does a quick cycle of batteries inserted and detects if any non Ni-MH batteries are inserted and does not charge that cell, it will of course charge batteries of other makes as well as those supplied with the unit which it claims can be charged 'up to 1800 times'.
I found discharged batteries took around two hours to be recharged.
The Eneloop name is a SANYO brand which is now a Panasonic company.
The Eneloop charger with four 'AA' batteries is available from the link below for £14.48 including delivery.
http://www.amazon.co.uk/gp/product/B004AP5X2Q?ie=UTF8&tag=gadge0a-21&linkCode=as2&camp=1634
Cross Pen Stylus Tech 2
This is the third such device I have looked at recently, first from STM a name known for laptop cases, second from BIC probably the most used biro around and now from Cross a quality pen maker.
The press release that accompanied the sample also mentioned two other units strangely called Tech 1 and Tech3+, but as you may expect at a lower and higher price.
It is 13cm long and circular, only 2mm at the tip and 1cm for the main body.
It is a twist pen with black ink which matches the pen colour I was sent. Other colours available are Metellic Blue, Tender Rose Pink, Pearl White, Satin Blue and Chrome.
As you may expect the writing experience was good from a quality pen, the ink flows smoothly and only a very period of writing upside down stops the ink flowing temporarily.
The stylus tip seems to be black on all the units and is 6mm across giving accuracy even when used on the smaller keyboards associated with smart phones.
While a lot of people use fingers quite successfully they often wonder why the screen always looks dirty and that – if you need telling – is the oil from your finger mixed with the dust in the air.
Anyone requiring accurate input on a touch screen of a smart phone needs the smallest finger or a stylus, being a male of advanced years not only are my fingers not small they are not even that steady.
A stylus makes sense and the screen also remains cleaner.
The Cross Pen Stylus Tech 2 is available from the link below for £25
http://www.cross.com/en/GB/tech2-satin-black-ballpoint-pen.aspx